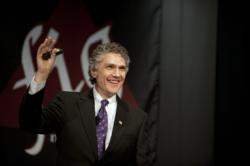 I had no idea that Scott has assembled so much material in a concise and useable fashion.
-Ross Hoffman, ChFC, CFP, CLU, AIF
Pittsburgh, PA (PRWEB) November 28, 2012
Scott Keffer, an internationally-recognized wealth planner, financial educator, consultant, speaker and author, reported that the 5th boot camp "was our best advisor training yet, gauging by the comments of the advisors who were in attendance."
The Double Your Affluent Clients Boot Camp was held Nov. 14-16 at the Hyatt Regency in Pittsburgh, PA. It is a three-day advisor training program for financial advisors, estate planners and money managers who are looking for bigger results from their practices.
James Malinchak, one of the highest paid motivational speakers, who has been featured on ABC TV's Secret Millionaire, was a guest trainer at the event. He shared with the attendees how to use local media to gain more exposure and credibility.
"This event is, without question, the most complete financial advisor marketing training around," Sharon Dorbritz, director of operations for Scott Keffer International, stressed. "Those who attend this event are empowered with everything they need to know to out-maneuver and out-market their competition."
Advisors in attendance walked out with a 250-page Action Manual with the tips, blueprints, recipes and tools to create a million dollar practice. The three days, where Keffer teaches from 8 a.m. to after 9 p.m., delves deep into The 7X Advisor Model.
"In the end, advisors walk out with everything they need to attract, engage and delight great clients," states Keffer, who quickly adds, "predictably. So that they can take home more income, take off more time and have a bigger impact on their family, friends, clients and causes they care about deeply."
Gene Offredi, CFP of Guilford, Conn., who has attended all five boot camps, gave the boot camp two thumbs up as the best yet and went on to say that the information presented was the best training he has ever received during the 82 years of his life.
"It's the best three-day event any serious advisor can attend," Offredi said. "You'll go home with a wealth of information."
Ross Hoffman, ChFC, CFP, CLU, AIF was utterly shocked by the detail, depth and usability of the information.
"I was so impressed and I have been to hundreds of conferences and never had one that took us through everything we need to take our business to the next level. I had no idea that Scott has assembled so much material in a concise and useable fashion." Hoffman added.
As to why advisors consistently rave about Double Your Affluent Clients Boot Camp and return multiple times, Dorbritz said, "It's Scott's expertise with the affluent that advisors come for, but they return because of his deep sincerity to change their lives."
Thousands of CPAs, attorneys, financial professionals, and charitable advisors at national accounting firms, the Estate Planning Council of Pittsburgh, the Butler County Bar Association, United Way of America and others have benefited from Keffer's instruction. His published articles include "Consider Your Choices for Estate Taxes", "Top 10 Estate Planning Mistakes", "Family Limited Partnerships: Panacea or Pitfall?" and "Protect Yourself From Wealth Predators" and have appeared in Physician's News Digest, Dynamic Business, National Underwriter, Resort Living and Journal of the American Chiropractic Association.
Keffer is the creator of The Legacy Planning® Process, The Donor Motivation Program™, The Affluent Engagement System™, The 7X Advisor Model, The Arc of Distinction, The Credibility Staircase and other industry-transforming processes and frameworks.
"We are really looking forward to our sixth Double Your Affluent Clients Boot Camp on May 8-10 in the Spring of 2013," adds Dorbritz. "We are already gearing up for it."
For more information, please visit: http://DoubleYourAffluentClients.com