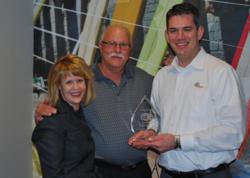 Parts Town really stretched themselves to help
(PRWEB) November 29, 2012
Parts Town, a market leader in restaurant equipment parts distribution, was recently presented with the "Vendor of the Year" award by Jack in the Box's Facility Services department.
Jack in the Box Facility Services partners with more than 600 vendors on an ongoing basis to keep company-owned restaurants operating safely and efficiently. Based on their successful partnership with Parts Town over the past year, Jack in the Box Director of Facility Services John Lolmaugh wanted to honor the partnership in a special way.
"Parts Town was an easy choice," agreed Judy Glasser, Jack in the Box Facility Service Center Manager. "Over the past year, Jack has been streamlining operations between departments. As we (Facility Services) took on more responsibilities, we needed help in several areas with inventory management. Parts Town really stretched themselves to help by warehousing a wide variety of items for us – some of them things that Parts Town usually doesn't take care of. They even coordinated with several other service providers to work out critical logistical details. All year long, they helped us identify our needs and challenges and then they just took the ball and ran with it. It was great."
Dennis Dettman, Parts Town Vice President of Customer Loyalty, added, "I can't tell you the joy and surprise that all of us felt upon learning about the Facility Vendor of the Year award. It is such a privilege to have the Jack in the Box brand as a partner." He continued, "We try at all times to do the very best for them because of what they give back to us.
"This award is the icing on the cake for all of the people on our team that work behind the scenes to deliver a great program for them."