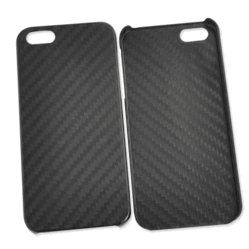 Shenzhen,China (PRWEB) November 29, 2012
The most preferred accessory for any smart phone users is a fashionable case. There are numerous cases for an amount of purposes which include hefty responsibility protection. As a phone accessory supplier, Esorun, provides a variety of wholesale beautiful cases to shield against the most brutal of knocks, drops and bumps, that are popular and affordable for everyone.
However, if one user is looking for a slap-up case differing from other mobile phone users, the genuine carbon fiber case is one of the best choices. For example, Esorun's CF09 for iPhone 4 and 4s, CF11 for iPhone 5 and SC07 for Samsung Galaxy S3, which are made of entirely carbon fiber material. They are as hard as steel material, however the weigh only 9 grams and the thickness is an unbelievable 0.8mm. These carbon fiber cases are superbly wonderful for demonstrating to one's friends and making his or her new iPhone 5 stand out from the crowd. This kind of case will display vivid wave and hierarchical structure from different angles for visitors.
There are thousands of so-called carbon fiber cases for smart phone in the market, including cases for iPhone 4, iPhone 4S, Galaxy S3, iPad and iPhone 5. The prices can be as low as 3 dollars. One unbeknown reality is genuine carbon fiber material is very costly and production is not easy (The defect rate is very high, normally over than 30 percent). For one very skillful worker, the daily maximum of production capacity is 25 pieces of smart phone cases or 15 pieces of iPad cases (for example: PC01). The daily average amount is 18 pieces at Esorun. Therefore one wise buyer will easily recognize the fact that the factory cost of a genuine carbon fiber case for mobile phone will not be less than 17 USD, and 45USD for iPad. All those "carbon fiber cases" under 18USD might be fake and actually made of glass fiber or other cheap materials by automatic machine line.
Data indicated that the carbon fiber case is increasingly popular. Considering the huge demand of iPhone 5 carbon fiber cases, some manufacturers are producing their orders day and night now, in spite of the fact that iPhone 5 is not launched in China yet. Wholesale buyers can directly contact Shenzhen Esorun Technology Co. Ltd.