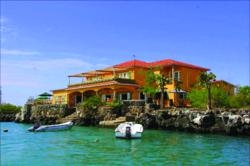 Helena, Ala. (PRWEB) November 28, 2012
Since inspiring Charles Darwin's theory of evolution, the Galapagos has gone from an uninhabited island chain to a global hub of ecotourism. Drawing on more than three decades of expertise in Galapagos exploration, nature travel pioneer International Expeditions offers travelers three tour options including an expedition cruise, private villa and intimate ecolodge for discovering the legendary wildlife and history of these "Enchanted Isles."
Mixing popular sightseeing spots and less-visited gems, each expedition option unfolds the islands' legendary deserts, beaches, lush highland forests, volcanoes and a flourishing treasure trove of plants and animals — many found nowhere else in the world.
Galapagos Small-Ship Cruise
During IE's 10-day Galapagos cruise aboard the 32-guest yacht M/V Evolution, guests come just inches from giant tortoises, blue-footed boobies, sea lions, penguins, iguanas and many other animals. International Expeditions' renowned naturalist guides — all Galapagos National Park-certified with top "Naturalist Level 3" designations — lead engaging discussions about conservation and the islands' diverse ecosystems featuring desert landscapes, lush highland forests, volcanic soils and nutrient-rich waters.
This immersive expedition navigates to captivating islands, where the small group size allows for easy access to the wildlife and far more personal attention than guests find aboard larger cruise ships. Onboard, guests sail in comfort with spacious, newly renovated accommodations, fine cuisine and a host of amenities including an observation deck (perfect for whale watching) and canopied bar, plus complimentary snorkeling equipment, wetsuits and kayaks. Prices for 2013 Galapagos Islands cruises start at $5,098.
Private Villa
Travelers looking for a luxurious escape can take advantage of IE's exclusive private villa in the Galapagos Islands — Casa La Iguana. This well-appointed five-bedroom villa on Santa Cruz Island offers a rare opportunity to savor the famed nature of Galapagos during private, naturalist-led excursions while being spoiled by an attentive staff. During day excursions in the islands, guests can relax and sunbathe on their private boat, swim and snorkel in the Pacific amidst unrivaled natural beauty; or hike in the forested highlands to meet giant tortoises. The villa staff includes a naturalist, concierge, private chef, barman, waiter, maid, and housekeeper. Plus, all meals, wine and cocktails are included and customized to guest preferences.
In addition to a full staff, private naturalist guide and private boat for day excursions, each party's villa stay also includes all meals, wine, and cocktails in the islands, use of Ecuadorian cell phone, wireless internet, fully-customized itinerary and more.
Ecolodge Adventure
Tucked into a pedestrian-only area of mangroves and white-sand beaches, International Expeditions' Galapagos ecolodge option is ideal for travelers who want to add more beach time and activity options to their Galapagos adventure. Guests can relax around the pool or on the stunning beach; join naturalist-guided small-group nature excursions with other lodge guests aboard a private boat; or kick-up the adventure with multi-sport options like SCUBA diving and mountain biking. With three, four and seven-night itinerary options, IE's lodge program makes combining a Galapagos tour with the popular Machu Picchu much easier.
For information or a Galapagos Islands brochure, contact International Expeditions at 1-800-633-4734 or http://www.IEtravel.com.
About International Expeditions
Celebrating 33 years of engaging nature travel, International Expeditions specializes in small-group journeys to Earth's most exhilarating destinations. A pioneer of environmentally responsible travel, IE is committed to preserving natural habitats and improving the welfare of the people and communities it visits.