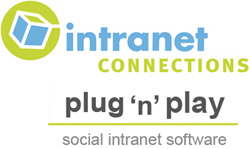 This upgrade is a game changer, integrating business intelligence in processes and workflows through this Form Builder release allows for a big impact for our clients in time savings, cost savings and overall ROI.
Vancouver, British Columbia (PRWEB) November 29, 2012
Intranet Connections has released version 12 of their business intranet software platform which included the highly anticipated Enhanced Form Builder module.
While version 12 of the Intranet Connections release provides an overall upgrade to the software platform, the highlights of the release resides in the Enhanced Form Builder module, including:

Built-in Tests & Automated Scoring
Simple Survey Builder
Conditional Triggers & Routing
Native Formula Calculations
Embedded Spreadsheet Fields
GPS Mapping for Mileage Calculations
Intelligent Workflows & Smart Forms
Carolyn Douglas (@carolyndouglas), Founder & CEO of Intranet Connections, reports: "This upgrade is a game changer for our clients and future customers. It eliminates paper-driven redundant tasks and adds sophistication to route and elevate decision-based workflows on designated criteria. Integrating business intelligence in processes and workflows through this Form Builder release allows for a big impact for our clients in time savings, cost savings and overall ROI for their social intranets. To see the difference you have to see it in action – we encourage any business considering deploying an intranet solution to request a demo or sign up for a free trial."
Douglas also shares that this new version of the popular social intranet software was a result of close collaboration with Intranet Connections' current customers that uncovered different workflow use cases that drove product improvement ideas.
One long time Intranet Connections customer and product evangelist, Peter Barron of Rio Rancho Public Schools, has been a key contributor over the years in requesting product enhancement to streamline his workflows. Version 12 was no exception, as Barron commented: "We are heavy users of the Form Builder module, so we test its functionality to the max. In using Form Builder, we identified we couldn't elect to pass a form submission onto key stakeholders for approval based on certain criteria. I suggested including this capability to the Intranet Connections team and now conditional triggers and routing capability are part of the robust Form Builder module. The team at Intranet Connections is really receptive and responsive."
Amy Arndt, Program Director at the National Accreditation Alliance of Medical Transportation Applications (NAAMTA) and current Intranet Connections customer, rigorously tests and retests each new version of Intranet Connections to meet stringent requirements before implementation. Arndt saw value in adding automated calculation fields to Form Builder and provided valuable user feedback that assisted Intranet Connections in building out this functionality: "Using a form to manually estimate expected mileage from a patient's location to the hospital was previously the only way to track mileage; the new GPS mileage calculation functionality allows us to automatically input distance to calculate the difference between estimated and actual mileage."
Toronto Community Housing also came to the table with enhanced functionality ideas to be rolled out in Version 12 specifically from IT Manager, Suman Pushparajah. Pushparajah explained he had a specific idea in mind: "Toronto Community Housing Intranet required form calculations and spreadsheets to perform specific workflows. We suggested native expense claiming functionality within Form Builder and Version 12 delivered just that."
"We love working with clients that push the envelope and recognize that extended functionality in Intranet Connections can eliminate manual workflows stages that can elevate productivity and efficiency. Our goal with every new release is to build a better business intranet to enable our clients to streamline workflows, facilitate better business decisions and yield long-term cost savings," said Intranet Connections' CEO, Carolyn Douglas. "Our success is really the success of our customers and we get that. It's about delivering what they want and need."
About Intranet Connections: Social Intranet Software
Intranet Connections (@IntranetTips) is an out-of-the-box Social Intranet Software Solution that merges business tools with people skills to streamline productivity and collaborate effectively. Intranet Connections delivers better workflows and automates business processes. Intranet Connections helps you improve communications with social networking and online business collaboration. Discover the Plug n' Play Solution today by requesting a personal demo.
Over 1,600 businesses and organizations worldwide have chosen Intranet Connections as their social intranet solution. Visit the Intranet Connections website (http://www.intranetconnections.com) to discover the powerful business and social intranet solution or contact us (604.927.9770 – clientservices(at)intranetconnections.com) for more information.