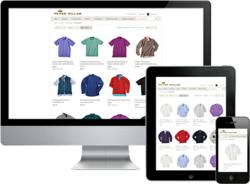 Chicago, IL (PRWEB) November 30, 2012
Gorilla Group, an award-winning, full-service commerce service provider, has announced the successful re-launch of a new e-commerce site for luxury fashion and sportswear apparel maker Peter Millar (http://www.petermillar.com/). Built with a responsive design framework on the Magento Enterprise platform, the newly redesigned and enhanced site provides the brand with an "every screen" e-commerce solution, as well as an upgraded user experience and expanded site functionality.
Bringing responsive design to the Peter Millar site puts the brand at the forefront of the digital space. Given the technical complexities in terms of checkout functionality and page load considerations, fully responsive sites for the e-commerce channel have, to date, primarily been deployed only by the largest retailers and brand manufacturers. With their focus on the mid-market, Gorilla was able to align their design, front-end, and back-end resources to bring a responsive design solution to Peter Millar.
To overcome potential pitfalls in the responsive design process, Gorilla's design team worked to integrate Magento's checkout functionality into the responsive framework and with Gorilla's hosting support team to configure a hosting solution that results in average 0.5 second page load speeds for cached site pages. A relatively new, and rapidly evolving, technology, responsive web design uses media queries, CSS3, HTML5, and an intelligent modular design to create intentional user experiences across device types, from desktop and laptop computers, to tablets and smartphones.
"We simply felt a lot of confidence from Gorilla. [T]hey understood our brand and the direction we needed to go in," said Sarah Ward, Director of Digital Marketing and E-commerce at Peter Millar. "We really looked to Gorilla to be our 100% solution."
To upgrade the overall user experience, Gorilla's designers collaborated with the Peter Millar team to create a sophisticated look for the site that more accurately captures the brand's commitment to style and craftsmanship. A robust store locator was added to drive traffic to retail channel partners, and color swatching functionality was added to product detail pages to more elegantly present different apparel options. To continue supporting the brand post-launch, Gorilla is hosting the site in their e-commerce-tuned private cloud environment and providing proactive site support through Gorilla Enhanced Managed Services (GEMS).
"The site is a great example of the innovative spirit of our design and development teams, and is among the first sites in the world to bring responsive design to the Magento platform," said Brian Grady, Principal at Gorilla Group. "It was our pleasure to work with a forward-thinking brand like Peter Millar on this project, and we're happy to be able to play a role in their continued success."
About Gorilla: Since 1994, leading brands, retailers, manufacturers and wholesalers have turned to Gorilla to solve their toughest e-commerce challenges and innovate functional solutions that elevate their businesses across sales channels. Inspiring design, impeccable development, insightful digital strategy and complete post-launch managed services and hosting combine to make Gorilla a smarter species of commerce.