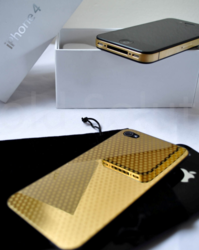 Make your own 'unique' gifts
London (PRWEB UK) 29 November 2012
After selling their kits all over the world for the last 5 years, Gold Solutions are introducing to every home the possibility of gold plating anything they want - as long as the item is made of metal.
With this simple to use package anyone can produce the most amazing items in 24k gold, platinum, silver and even chrome, with absolutely no skill required whatsover.
Buyers can turn a mobile phone into a real luxury item for just a few pounds, make the most amazing and unique gifts ever seen from ordinary everyday items, or transform their bathroom or car into the most luxurious creations to be envied by all.
The simple to use GS90 De-Luxe gold plating kit comes with enough 24k gold solution to plate 5 Apple Touch i-pods or 5 Apple 4/4s i-phones and is also a must have for anyone who loves DIY at home. It also come with full instructions and an unlimited free telephone and email support package.
To see exactly what comes with this incredible package just go to: GS90 De-Luxe kit
To see all of the amazing business packages on sale just go to: Plating Kits
To see a short video of how easy it is to gold plate go to: Gold plating an ipod
To ask any questions just email us on: info(at)goldsolutions.eu
Make this year the most amazing year for someone special in your life.