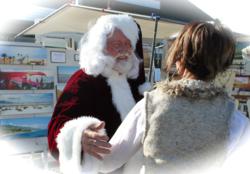 "The Redondo Shores Shopping Center is a gem of the Southbay community and this event gives small business owners a chance to feature some of their best offerings," says Andrew Graham of European Wax Center.
Redondo Beach, CA (PRWEB) November 30, 2012
The 2nd Annual Holiday Party at Redondo Shores Shopping Center in Redondo Beach takes place on Sunday December 9th from 11am to 4pm and showcases photos with Santa as the main attraction, drawing families with kids from all Southbay communities. Santa arrives in style, bringing with him snow flurries from the North Pole and lots of activities for kids to stay entertained all day. Catch him on the second floor of the north end from noon to 3:00pm.
This year, family, friends & neighbors are invited to share the day in a full-of-activity environment. and lots of activities for kids including face painting, arts and crafts, ornament decorating, holiday story-time by the Redondo Beach Library, kids yoga and more. But make no mistake, this event is not just for kids. All shops in the center will be participating outside of their storefronts by offering seasonal discounts, holiday & promotional offers or food & drink samples. Plus coupons and discount offerings will be handed out all day on the sidewalk by Santa's elves.
"Last year we were searching for a place for place where are kids could see Santa and found this event fantastic and so convenient, plus we got our photos for our holiday cards," says Kristy Enos of Torrance, CA.
"The Redondo Shores Shopping Center features some great shops and gives patrons a chance get a jump start on some of their holiday gift shopping. Plus they can also get free gift wrapping for any gifts purchased by Santa elves on the second floor.
Redondo Beach is a place where neighbors still introduce themselves and everyone around you makes you feel welcomed, whether you have been living here for years or are new to the area. Redondo Shores Shopping Center is in favor of keeping small beach towns cozy. These events help create intimate atmospheres and encourage the involvement of small family-owned businesses to keep the unique feel of this South Bay neighborhood.
"This shopping plaza is a gem of the Southbay community and this event gives us small business owners a chance to feature some of their best offerings," says Andrew Graham of European Wax Center. It has the right mix to help you accomplish your shopping needs in one day with one stop. Small businesses like Child's Play Toys, The European Wax Center, Pure Barre, Fresh Brothers and Studio Pulse, together with larger businesses like Whole Foods Market, Centinela Feed & Pet Supplies and Rite-Aid and more will welcome local residents with their offerings.
The schedule for the day is as follows:
11:00am to 4:00pm - Shops offer sidewalk shopping and activities for kids
12:00pm to 3:00pm - FREE Photos with Santa on 2nd floor
FREE Face Painting
FREE Gift Wrapping
1:00pm to 2:00pm - Holiday Story-Time (Redondo Beach Library)
About the Redondo Shores Shopping Center
Redondo Shores Shopping Center is home to over 30 unique businesses. Located on North Pacific Coast Highway, the center is convenient, easily accessible from all directions and offers free parking. Whole Foods and Rite Aid, the anchors of the center, draw its share of traffic, but you'll find it's the small businesses that give it its charm. Boasting itself as the "Center for Health & Wellness", you'll find three boutique fitness studios offering, Spinning® classes at Studio Pulse, Pure Barre and Vital Balance Pilates. Massage, chiropractic care, optometry and dental services….this location is a rare find. From services such as dry cleaning, watch repair and a nail salon to restaurants like, Fresh Brothers and Dickey's Barbecue, you'll quickly find a reason to make this shopping plaza your first and last stop for holiday and routine shopping throughout the year.