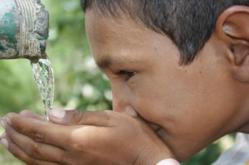 Spryte Loriano, Director of the Manifest Foundation says, "You can provide children education. You can build them a school. But if they don't have food and clean drinking water, they're not going to get the education they need."
(PRWEB) November 29, 2012
Many of us never give a second thought about our drinking water. We turn on a faucet and tad ah! We are able to use our water for drinking, to cook with, to bathe in and do our laundry. But imagine your life without clean drinking water. Instead, the water is brown with silt from a nearby river, full of mud from a nearby puddle and may contain feces, urine or other unimaginable contaminants and is loaded with teeny, tiny microscopic bacteria that make you and your family sick or could even cause death. Imagine that you are thirsty, must have something drink and the only water that's available is horribly contaminated. And imagine, that there is not a darn thing you can do about it.
Lack of clean water is not an imaginary problem. In fact, a severe lack of clean water is a global issue. The Manifest Foundation founded by WorldVentures and maintained by WorldVentures representatives is addressing this problem and has partnered with Water 4 Everyone to find solutions concerning the shortage of clean water in many parts of the world. Jack Rose, founder of Water 4 Everyone, has worked on many water projects including developing the Sawyer filter system. The filter is amazing! The Sawyer filter is able to keep out parasites and bacteria and can supply sanitary and uncontaminated water for several families. Just keep pouring in contaminated water and the filter does all the work.
Prior to the Sawyer system, ceramic slow-drip filters were used to provide safe drinking water. However, these filters did not last, the ceramic became clogged and the filter had to be replaced. Clogged filters and the continuous need of having to replace the filter which was the difference between life and death or from becoming ill from filthy drinking water did not fit in Jacks way of doing things. He believes in finding the easiest way and has designed cost-efficient solutions for water issues including the Sawyer filter.
By working with organizations such as Jacks, Water 4 Everyone, the Manifest Foundation is able to give back and bring hope and self sustaining solutions to those without clean water. Many WorldVentures leaders take part in DreamTrips that help the mission of the Manifest Foundation progress throughout the years.
WorldVentures is a lifestyle company on a mission to help people achieve more fun, freedom and fulfillment in their lives through the direct-selling industry to market its DreamTrips Memberships and is a leader in leisure travel. The WorldVentures executive team founded The Manifiest Foundation in 2010 whose generous giving has helped fund many great causes for disadvantaged children and their families throughout the world. It is named Manifest because the philanthropic foundations vision is to help others manifest a better life for themselves. The foundation is dedicated to creating positive changes for economically disadvantaged children and their families.