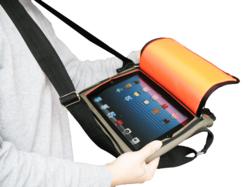 Our original iPad hybrid case/bag was an enormous success with institutions who saw the need for a way to keep their iPads safe, but still accessible. Our new product is for the retail consumer who wants the same functionality in a stylish package.
White Plains, NY (PRWEB) November 30, 2012
Fresh from the success of last year's groundbreaking iPad hybrid case/bag, Go Tablet follows up with a product that solves one of the biggest problems with iPads – how do you safely take it with you to where you're going, while still be able to use it without risk of dropping, theft, or misplacement? The Go Tablet Hybrid Messenger Bag functions as a protective padded case offering convenient, instant access and hours of comfortable use in your hands without compromise - while in the form factor of a fashionable messenger bag.
The original Go Tablet iPad Hybrid Travel Case was an instant success when it was introduced in 2011, with an unexpected majority of sales going to schools, hospitals, small businesses and other institutions that had deployed iPads in their workforce but needed a way to both protect their investment while keeping it easily accessible by their users.
The Go Tablet iPad Hybrid Messenger Bag was specifically targeted to appeal to the retail consumer, and is designed to look more like a fashion accessory than an iPad case.
Jao, who is also CEO of Roadtrip Luggage, the leading designer of custom fitted automobile luggage highly regarded by the enthusiast community worldwide, says "there is some satisfaction about creating products that solve real-life problems. People love their iPads and take them along with them everywhere. They want something that they can help them use their devices right away, something that protects their gadgets from drop and theft. And just as important, something that they can show to their friends and say - 'hey look at this'and in turn expect their friends to say 'hey thats way cool'"
"This is almost an overkill design", Jao opines. "A year of design and testing, hand crafted using the same techniques and materials alongside our world-renowned automobile fitted luggage, you don't see that much time and effort spent with many iPad accessories, if any at all. We're sure that with our iPad Messenger Bag, people can take their tablet wherever they go and feel safe that their expensive gadget does not get lost, damaged, or snatched away from them while still being able to comfortably use it whenever they want, wherever they are."
About Go Tablet:
Go Tablet is a venture headed by Jerome A Jao, CEO of Pontiac Eleven LLC, the leading designer and manufacturer of custom fitted luggage for automobiles worldwide. Go Tablet products are available at http://www.GoTabletStore.com, http://www.RoadtripLuggage.com, Amazon and other selected partners. The company is headquartered in White Plains, NY