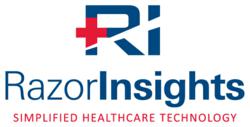 Kennesaw, Georgia (PRWEB) November 29, 2012
RazorInsights, a leading provider of health IT solutions for rural, critical-access and community hospitals, today reported that 100 percent of its "live" clients have attested to Meaningful Use and are receiving incentive payments as provided by the HITECH provisions of the American Recovery and Reinvestment Act (ARRA).
Michael McKenzie, COO for RazorInsights, is quite pleased with the success of both RazorInsights and its hospital clients alike. "We are all extremely excited to see each and every one of our eligible clients meet Meaningful Use," he said. "We've built an incredible product and a superb team. Enabling our hospital clients to provide their underserved communities the most modern health care technology available is very rewarding. It validates that what we're doing is truly making a difference."
Two-thirds of RazorInsights' hospital clients have achieved Stage 1 Meaningful Use—Year 1, while its remaining eligible clients have already attested to Stage 1—Year 2. Stage 1 attestation periods consist of meeting 14 core objectives and 5 of 10 menu-set objectives. RazorInsights' clients have been able to easily monitor their progress via ONE's customized meaningful-use dashboard.
RazorInsights' clients are finding an accelerated path to meaningful-use success with ONE's simple-user interface and single-database delivery system. Its intuitive design allows administrators and clinicians with very limited technical skills the ability to easily transition from paper. "If a person can learn to use Facebook or place an order on Amazon, they can use ONE," says VP of Sales Kevin Rockholt.
Cecelia Bost, COO at Alliance HealthCare System in Holly Springs, Mississippi, has been very pleased with the ease of the system and the level of service provided by RazorInsights. "After working with several different EHR systems during my HIM training course, I found RazorInsights to have the most user-friendly product. Our entire staff has readily embraced RazorInsights' ONE-Electronic Health Record and has been impressed with both the onsite training and 24/7/365 technical support they include," she said.
"We are very grateful for the success and completion of attestation through the training, technical support, and overall efforts of RazorInsights. Our new EHR technology is significantly enhancing the quality of health care we are providing our community. Additionally, we have been very impressed with the product's quality reporting capabilities to monitor our Meaningful Use criteria in an easy-to-read format," continued Bost.
Earlier this year, RazorInsights expanded its offerings with a fully-integrated financial management solution residing on the same database as its clinical system. With a much anticipated ambulatory/practice management solution in development, RazorInsights plans to soon disrupt the rural hospital segment with its single-database, ONE—Enterprise Edition.
About RazorInsights:
Based in Kennesaw, Georgia, RazorInsights is a dynamic healthcare information technology company. In keeping with the principle of Occams Razor, they have created a simplified HIS solution for rural, critical-access, and community hospitals. Introducing ONE — a single-database, cloud solution offering a simple user experience with cutting-edge clinical tools and industry-standardized data. Hospitals can expect to improve their performance and bottom line with ONE from RazorInsights. For more information, visit razorinsights.com or call 770-308-4111.