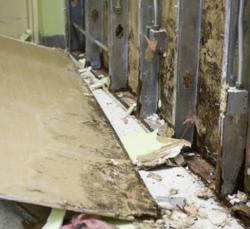 Neptune City, NJ (PRWEB) November 30, 2012
Cowley's Termite & Pest Services and Cowley's Mold Solutions, have been proudly serving the pest control needs of central New Jersey for over two decades, is now a licensed applicator of the proprietary MoldExterm™ System. With the MoldExterm™System, homeowners and commercial property owners can now have their mold problem resolved safely and expeditiously, often without the need to relocate.
The MoldExterm™ System first utilizes a highly effective EPA-registered anti-microbial that kills mold and a variety of other pathogens on contact. Following this treatment, a proprietary, patented polymer sealer is applied. This sealer, unlike any other product on the market today, is proven to kill mold at the cellular level. Its primary benefit is that the sealant remains active on surfaces, preventing future mold colonization. This bio-remediation method of mold treatment made its large-scale debut by successfully eliminating the unprecedented level of mold contamination found in the New Orleans Superdome in the aftermath of Hurricane Katrina.
Here in New Jersey, the water intrusion and damage from Superstorm Sandy has left ideal mold growth conditions for homeowners. The aftermath of Sandy run the gamut from major flooding with large sections of building material damaged beyond repair to localized water intrusions from a damaged roof. Homeowners should be cautioned that even if there is extensive damage and a construction company removes water-damaged materials from the home, mold spores easily become airborne if disturbed. When materials containing mold are removed the airborne spores can become dislodged during transit and attach themselves elsewhere.
Said Bill Cowley, "The longer you allow mold to grow, the greater the risk and the more difficult the cleanup. Many areas were closed to residents for weeks after the storm leaving homes and businesses festering in damp conditions."
Cowley's Termite and Pest Services, has been helping NJ homes and businesses resolve a full range of pest infestations for over 20 years, and is also a certified installer of TAP Pest Control insulation. For more information visit Cowley's Termite & Pest Services.