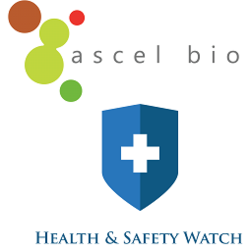 "Physicians use Ascel Bio forecasts to improve quality of care. The Health & Safety Watch platform will deliver these direct to their devices along with the unique blend of alerts and content already offered by IHS."
(PRWEB) November 29, 2012
Ascel Bio and International Health Solutions (IHS) today announced the formation of a strategic partnership.
Ascel Bio (http://www.ascelbio.com) is an infectious disease forecasting company headquartered in New York. IHS owns and operates Health & Safety Watch (http://www.healthandsafetywatch.com) and is headquartered in Ontario. Through the strategic partnership, IHS will begin to distribute Ascel Bio's forecasts for Canada beginning early 2013. Ascel Bio will also be making IHS products available to U.S. customers through its on-line store (http://nationalhealthforecast.presspublisher.us/).
"We are excited to distribute health forecasts in Canada through IHS", states Chris Cook an Ascel Bio partner based in Toronto. "Physicians use Ascel Bio forecasts to improve quality of care. The Health & Safety Watch platform will deliver these direct to their devices along with the unique blend of alerts and content already offered by IHS."
"Ascel Bio's food safety forecasts promise to be an especially useful addition to Health & Safety Watch," says Dr. Jeff Aramini, IHS President & CEO. "Food safety specialists and health-conscious consumers can now place new outbreak alerts, restaurant quality warnings, and product recall notices in context. Armed with a better understanding of which seasonal risks are peaking, they can make better decisions."
About International Health Solutions:
Through its Health & Safety Watch platform, IHS helps families get real-time information on all types of health and safety recalls, warnings, and advisories; beginning in Canada. Geo-location mapping and other technologies deliver personalized information that is important to its members. In addition to the website and Smartphone apps, several other products and services are in development.
About Ascel Bio LLC
Ascel Bio is a private disease forecasting company founded in 2010. It is an industry pioneer with a corporate mission to halve the morbidity and mortality of infectious diseases over the next 25 years. The company uses advanced predictive systems combined with the judgment of astute clinicians in building its forecasts.