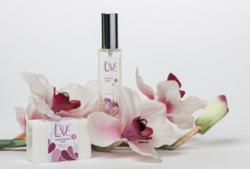 I discovered LOVE in my local grocery store. It has been my scent ever since. I keep my roll-ons in every place of my life-car, bookbag, purse, vanity-Thank you for making amazing products. I look forward to sticking with love for a long time!
Laura J
Graton, CA (PRWEB) November 30, 2012
Auric Blends is spreading the love with their release of a perfume spray and soap in their best-selling Love fragrance. Just launched this month, their eau de parfum is a warm, sensual blend of musk and white amber and the soap is made with a vegetable glycerin base and contains shea and cocoa butter.
Danielle Letourneau, Product Development Manager at Auric Blends, says, "We found that when we took the perfume oil and suspended it in alcohol to create the spray, the fragrance took on a new character. It opened up and soft floral notes that were hidden began to express themselves. The result is a beautiful, feminine fragrance that is perfect for winter because it takes us out of the cold and reminds us of the spring flowers that are waiting to unfold." About the soap she adds, "the bar soap is a gentle soap safe for all over body use. It brings a mild fragrance that sets the initial notes for layering with the perfume oil or eau de parfum."
The Love fragrance was launched originally in 2004 and quickly became a customer favorite. With the combination of the fragrance name and the fact that it included elements of their number one selling Egyptian Goddess, Auric Blends knew Love was destined to become a best seller. 8 years later, and with fans all over the country, the line now includes a perfume oil, eau de parfum, solid perfume and soap. Future plans include a lotion and candle and possible expansion into other personal care products.
You can find out more about Auric Blends at their website and on Facebook.
Love eau de parfum is available in a 1.7 ounce bottle for $29.99 and Love soap is available in a 3.6 ounce bar for $4.95 exclusively on their website at http://www.auricblends.com
About Auric Blends
Founded in 1993 and located in Northern California, Auric Blends manufactures and distributes perfume, incense and other fragrance products to stores across the United States and internationally. Their fragrance products are sold by thousands of retailers nationwide including Whole Foods, CVS, Sprouts Farmers Markets, Raley's and Walgreens. Their fragrance line can also be found on drugstore.com and amazon.com.