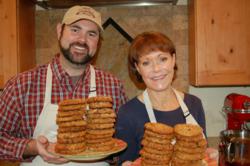 Following simple gluten-free guidelines this Holiday season will make traveling easier to digest
Bozeman, Montana (PRWEB) November 30, 2012
Every year millions of Americans brave the uncertainty of weather and traffic jams as they hit the open highway on the quest to embrace holiday traditions with their families. But it's the seat at the Family Holiday Table that can be especially treacherous for those with Celiac Disease or Gluten-Sensitivity.
The friend knew that Deb and her daughter had been gluten-free since being diagnosed with Celiac Disease, almost 8 years ago. Celiac is the #1 genetic autoimmune disease in the world, and is manifested by a complete intolerance to ALL foods containing gluten (wheat, rye, barley).
Earlier this year Deb and her family started the company "Gluten-Free Prairie," which is dedicated to providing fresh and healthy grain-based gluten-free products.
Deb gently talked her friend off the gluten-free ledge by sharing some tips to help keep her guest safe, including the good news that there has never been a better time to be gluten-free. Certainly, everyone knows someone who is gluten-free these days, making it very likely that many folks are having similar fears about hosting a gluten-free guest this holiday season.
The gluten-free consumer market is growing every day, and an increasing number of Americans are also traveling Gluten-Free, making it more likely than ever that a gluten-free friend or family member will be sharing your Holiday Table this year.
Why does going gluten-free seem to be all the rage?
Reasons for embracing the gluten-free way of life vary.

Celiac Disease, an autoimmune condition manifested by a complete intolerance to all gluten-containing foods (wheat, rye, barley). Even a few crumbs can cause a severe reaction.
Gluten-Sensitivity, a wide-ranging spectrum disorder which manifests with symptoms similar to Celiac but lacks the autoimmune response and doesn't cause damage to the small intestine.
Lifestyle choice focusing on fitness and/or weight-loss. (Lady GaGa and Miley Sirus come to mind.)
No matter the reason, the solution is the same: strict adherence to a gluten-free diet.
Tips to keep your gluten-free guests safe this holiday season.

Naturally gluten-free food stuffs are abundant. Readily available foods that are naturally gluten-free include ALL fresh fruits and vegetables. Even breadfruit is gluten-free.
All untreated meat, fish and poultry* are naturally gluten-free. (*note: some wheat based fillers are added to processed meats. Also imitation crab generally contains wheat – so always read the labels). Many more foods are naturally gluten-free than not. If left un-stuffed and untreated, turkey, chicken, and beef are naturally gluten-free. All fish are naturally gluten-free.
Read labels: The FDA now requires that the top 8 allergens (including wheat gluten), be listed on all food labels.
Hidden sources of gluten (find a more extensive list on Deb's Blog: Not Even A Crumb include soy sauce*, some modified food starch and beer* (*many gluten-free beers and GF soy sauce – "tamari"– are now available)
Cross-contamination, where gluten-containing foods come in contact with gluten-free foods, remains the #1 concern.
Food Preparation: The simplest way to avoid cross-contamination in a shared kitchen is to prepare gluten-free items on surfaces like glass plates using stainless steel utensils. (Wood and plastic utensils often retain bits of gluten, even after washing.) Use foil to line cookie sheets. Avoid toasters.
Sauces and gravy: Wheat flour is a common thickener, but corn starch and gluten-free oat flour (available from Gluten-Free Prairie) are great substitutes.
Many gluten-free flour mixes are now commercially available for the gluten-free home baker.
And pure dark chocolate is always naturally gluten-free.
Millions of Americans will be taking on the new challenge of how to have a safe gluten-free experience at Family Holiday Table this year. No matter what side of the table you're on, just know what's in the food you're serving and take heart…Celiac Disease is the only disease on the planet controlled by diet. Gluten-free consumers are used to reading labels and asking questions. We generally know what is safe for us to eat.
Deb Wheaton is a writer/blogger "Offering Easy to Digest Solutions for Living a Gluten-Free Lifestyle" at http://www.notevenacrumb.com/ She is credited as co-author of the new book "500 Gluten-Free Dishes", available at Baker Street in the Gallatin Valley Mall and Amazon.com. She is also co/founder of Montana-based Gluten-Free Prairie, LLC (http://www.glutenfreeprairie.com), offering certified gluten-free, grown-in-Montana grain-based products.
Deb is not a doctor, lawyer, rocket scientist or astronaut. But she IS a passionate advocate who is on a mission to raise awareness about Celiac Disease.