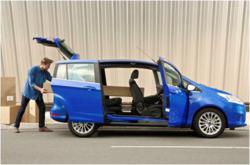 (PRWEB UK) 28 November 2012
THE Ford B-MAX is Ford's new and skilfully packaged small people mover, recently launched in the UK.
Based on the Fiesta and built in Romania, the B-MAX rivals small cars that offer greater practicality to business users – such as the Honda Jazz, Nissan Note and Citroen C3 Picasso.
However, what distinguishes the B-MAX from that trio and other rivals, says Ford, is not just its clever use of cabin space, it's the car's ingenious pair of rear doors.
These sliding doors – and lack of central B-pillar – give an unrivalled level of cabin entry and exit for the class through an opening that measures a full 150 cm across.
Ford has engineered it so that front and rear doors lock together so effectively that there's no need for a conventional B-pillar.
For those wondering at this point whether the Ford B-MAX body and door structure can really be strong enough to stand up to impact without that normally vital middle pillar, Ford's reply is that it's subjected it to more than 5000 tests to make sure. The B-MAX has also emerged with a five star Euro NCAP crash test rating thus putting it in the top class for safety.
Previously, in Business Car Manager, they have met and tested the B-MAX in 1.0-litre EcoBoost form. As they would expect, the UK range also includes some diesel options and this Titanium 1.6-litre TDCi edition is the top spec diesel currently on offer. In fact, it's the most expensive new B-MAX, at £18,895 OTR, full stop.
With power of 95PS, fuel economy of 70.6 mpg and CO2 emissions of 104 g/km, this 1.6 diesel B-MAX has slightly less power than the 1.0 EcoBoost, yet lower CO2 emissions and better fuel economy. So is it the one to have for a company car driver?
What's hot?
*Those B-MAX rear doors and the way they slide open to give exceptionally easy ingress and egress to the cabin
*Tall, roomy cabin offers plentiful amount of space for the class
*Fold-flat seats (apart from the driver's) which add to the sheer flexibility and versatility of the cabin.
*Long 2.3 metre load length with the seats folded flat
*Easy loading from the side or rear of the car
*1.6-litre TDCi Duratec offers stellar 70.6 mpg combined figure, with C02 of just 104 g/km, claimed to be best in class
*Ford Sync – Ford's voice-activated in-car connectivity system, which they can use via their mobile phone to make calls and control music. Sync will also read out text messages and there's a useful Emergency Assistance function too.
*In 1.6 diesel form, the B-MAX drives well, with good refinement, matched to a supple, well controlled ride
What's not?
*The desirable 1.6 TDCi diesel only comes with the most expensive Titanium trim level
*With the MPV's higher centre of gravity, handling not quite as tight and controlled through bends as a Fiesta, on which it's based
*The 1.6 diesel is 31 kgs heavier and nearly 1 sec slower to 62 mph than the headlining 1.0-litre EcoBoost model. Mid-range pulling power also sees the EcoBoost (surprisingly) well ahead
*Relatively poor rear vision
They like the Ford B-MAX, just as they did when they first drove it in 1.0-litre EcoBoost form back in August – see Ford's new B-Max – the small little big car.
The car's pioneering back doors, which were engineered at Ford's Dunton R&D centre, give this compact MPV a unique appeal: seeing them in action, and the amount of space they afford in and out of the cabin, has to be seen to be believed.
On the road, the B-MAX generally drives well although sparkling dynamics are probably not what this ingenious little mini MPV is really all about. It's the functionality that counts and in that department, it works. Good quality materials also help to give the cabin something close to that coveted 'premium' feel.
In the B-MAX world, the question of whether the 1.6-litre TDCi diesel is preferable to, say, the 1.0-litre, 100PS petrol EcoBoost is open to question. The diesel has lower CO2 and much better combined economy, offset by higher purchase price, heavier weight and marginally inferior performance.
The diesel version also carries a 1% higher banding on benefit-in-kind company car tax – thanks to the 3% surcharge applied to diesel cars for company car tax purposes.
So a Ford B-MAX 1.0T Titanium 120PS EcoBoost Start/Stop carries a 13% company car tax banding in 2012/13 giving rise to benefit-in-kind taxation of £2358. For a 20% company car tax payer, that's £472 a year in tax.
The Ford B-MAX 1.6 TDCi Titanium 95PS, on the other hand, carries a 14% company car tax banding in 2012/13 giving rise to benefit-in-kind taxation of £2638. For a 20% company car tax payer, that's £528 a year in tax.
That's hardly significant, so what to do?
It's a case of mileage matters. For most SME company car drivers on a low mileage – say 10,000 and below – the EcoBoost B-MAX makes more sense; if their business mileage takes them much above that the highly capable 1.6 TDCi B-MAX comes into play thanks to its superior fuel economy.
Use their business car tax calculator – in the 'tax' drop-down main menu – to help them make their decision.
Either way, with the Ford B-MAX they will be getting a stylish, smart, and tax-efficient company car – and one with its own party piece sliding doors for extra ease of entry functionality that business colleagues, kids and elderly relatives will all thank them for.
Business Car Manager has a variety of useful guides including business car lease, business car profiles and detailed reviews including SEAT reviews among others.
For more information, visit Business car Manager at http://www.businesscarmanager.co.uk/.