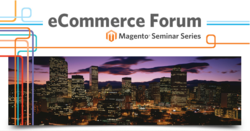 Denver, CO (PRWEB) November 29, 2012
Join Magento and Indaba Group in Denver, CO on December 13, 2012 to learn how to plan and prepare for high-traffic, high-volume days for your online store.
With sales and promotions in high gear for the holidays, it's key to have a storefront that can withstand activity from excited shoppers!
Learn how to prepare an online store and server settings to ensure the site will be up and running, and more importantly, allow customers to complete their purchases quickly.
Indaba Group, a Silver Magento Solutions Partner, will use client examples to share their knowledge on keeping sites operationally sound even during dramatic spikes in traffic.
In addition, eCommerce experts from Peer 1, Listrak, and Magento will be on hand to discuss how to keep a site running smoothly and increase sales throughout the busy holiday season and beyond.
Space at this event is limited and reserved for merchants. Registration is required.

Indaba Group is an award-winning Magento partner, providing customers with complete ecommerce solutions, including discovery, design and custom website development. Leveraging their industry leading team of professionals that specialize in all facets of running a ecommerce business, Indaba offers In-Commerce - a complete solution to selling products online. Offices are located in Denver, Colorado, with a sister office in Lymington, England.