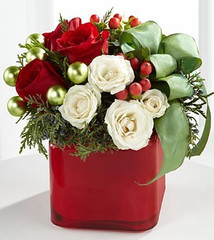 Atlanta, GA (PRWEB) November 29, 2012
Peachtree Petals, a premier Atlanta Florist and Master Florist, announces their Christmas Centerpiece Sale. The sale is Peachtree Petal's initiative to expand its' growing client base, as well as increase exposure to their premium floral bouquets and decor during the holiday season. The popular florist pursues to market their brand with simplicity, superior quality and most notably, free same-day delivery of all their floral arrangements.
The Christmas Centerpiece Sale will be strategically advertised on the home page of the Peachtree Petal's website. The Christmas centerpiece will be on sale for $19.99. The floral designers will create an original Christmas centerpiece requested by their customers. The centerpiece sale begins November 27th, a day after Cyber Monday, and will continue until December 31st. It will only be offered for pick-up only and cannot be combined with any offer.
Retailers have experienced record online sales thus far this holiday season. Peachtree Petals is expecting to see similar results in the floral industry. The florist company plans to aggressively conduct e-marketing of the their weekly flower deals, along with advertising their holiday sales. The Christmas centerpiece will be the first of upcoming sales of Christmas flowers.
Peachtree Petals is a a leading Atlanta Florist specializing in floral arrangement and floral wedding services. From floral bouquets to wedding centerpieces, Peachtree Petals can meet all of your floral needs. With over 50 years of experiences, their floral designers create bouquets with quality and excellence. A staffed wedding consultant is also available for stunning wedding arrangements and decor. Peachtree Petals is also well-known for its' simplicity and free same-day delivery throughout the Atlanta area.