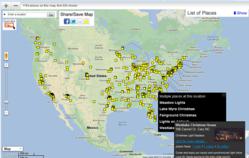 Our goal is to give all the Christmas light maniacs out there a bigger stage and a wider audience.
Reston, VA (PRWEB) November 29, 2012
MapMuse today announced the official release of its 2012 Christmas Light Displays Locator, a free iPhone app and web map designed to give home decorators a chance to show off their spectacular holiday lights to the rest of the world. The Locator's thousands of users can either browse a map for nearby light displays to visit, or view them from afar via photos and video links.
"Folks spend hours upon hours hanging these painstakingly elaborate light displays," says MapMuse. "But for whom? Themselves? Their neighbors? Our goal is to give all the Christmas light maniacs out there a bigger stage and a wider audience."
The Locator is built on an interactive map that geolocates over 1,200 homes, a number that is growing by the minute as more and more holiday lights go up. Homeowners add photos, viewing hours, contact info, and web links to their listings with the hope of attracting more eyes to their displays. Envious neighbors and awestruck passerby are also encouraged to submit other people's houses, provided their lights are truly worth sharing with the world.
"Out there, somewhere, is a lonely man who's spent every waking moment of the past few months perfecting his computer-automated, radio-synced light homage to Yuletide spirit," says MapMuse. "It'd be a damned shame for his hard work to go unnoticed."
Anyone with Christmas lights is welcome to add their home to the map, which can be done with the press of a button. "But you'd better be ready to take some heat if it's lousy," says MapMuse, referring to an in-app review form that users are prompted to fill out once they visit a house. Substandard light displays get skewered, while impressive ones earn the praise and jealousy of other holiday enthusiasts.
"For a supposedly altruistic tradition that brings light and cheer to the world, it's developed quite a dark and cutthroat subculture," says MapMuse. "But that doesn't preclude it from being delightfully fun."
The Christmas Light Displays Locator can be downloaded free-of-charge from the iTunes App Store. Users without an iPhone can access the corresponding web map, which plots the same light displays but omits certain mobile features (e.g. real-time navigation and one-touch dialing).
MapMuse is a web and app development company based in Reston, Virginia. For more information, please visit their official website.