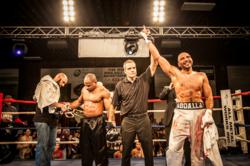 I feel great at this point in my career and am looking forward to bringing a World Title home to Western New York.
Lockport, NY (PRWEB) November 28, 2012
Abdallah, the reigning World Kickboxing Association United States Light Heavyweight Champion faced Cleveland Ohio's "Iron Dragon" Tiawan Howard at the Kenan Arena in Lockport, NY. Howard a veteran of Bellator and over 20 professional MMA bouts as well as over 20 years of martial arts experience was expected to bring out the best in Abdallah and test his will. "I'm a warrior and that's why I accepted this fight. You better believe that I'm coming to fight and bring Hell." Howard stated. "My experience will give me enough insight to defeat Amer (Abdallah)."
Abdallah, who trains at the Lockport Athletic & Fitness Club brought on former student and current head striking coach at WNY MMA, Corey "The Story" Webster as head trainer of his training camp. "I was very comfortable with the way Amer's preparation went in camp and was confident in Corey's ability to get Amer to where he needs to be, come fight night." Team Abdallah Manager Ahmed Imamovic stated. "We have a great team behind Amer in Gina Nowak-his longtime strength and conditioning coach, Jim Andrello- Assistant Trainer, and "Baby" Joe Mesi as his adviser."
In response to Howard's statement, Abdallah replied, "Tiawan brings a lot of experience and talent to this fight and I'm happy to be challenged by his skill. I hope he does "bring Hell", I'll drag him through every inch of it."
From the opening bell of their fight dubbed "Pride & Glory", Abdallah was in control. A solid attack of body kicks and punches slowed the powerhouse Howard down in the first and second rounds. "He was throwing a lot of power shots that gave me the indication he was looking for an early night" Abdallah said. "I like to put money in the bank each round and cash in later, and that's exactly what we did." The body shots took the wind out of the Cleveland native and by the 4th round was gasping for air. A picture perfect spinning wheel kick landed flush on the bridge of Abdallah's nose and caused it to begin bleeding throughout the bout. "It was a perfect shot and I misjudged it by an inch," Abdallah stated.
Howard began each round strong until the body assault began and midway through the rounds was beginning to feel the fatigue. A front kick Abdallah landed in the midsection of Howard sent him to the canvas for the first time in the 3rd round. He was able to get up and fight back, finishing the round on his feet. The 4th round had Abdallah come out aggressive and picking up the pace. A left hook followed by straight right sent Howard to the canvas again and was saved by the bell. Abdallah's corner felt the urge to finish the fight early and Abdallah came out and stood in the center of the ring prior to the bell for the start of the 5th. A durable and strong Howard attempted a rally, but was met with vicious body and head kicks that had him holding on for the entire round. Immediately after the round, Howard crashed down on his stool and was unable to answer the bell for the 6th round, giving Abdallah a TKO victory and improving to 13-0.
"I'm happy with my performance and would rate it a B-" Abdallah stated. "I feel great at this point in my career and am looking forward to bringing a World Title home to Western New York."
Sponsors for the championship event were Local Edge Media, Mulvey Construction, All Metal Works, KJ Motorsports.com, Executive Landscaping, Niagara Gutters, Witlin, Cain & Dry Accountants & Papa Leos pizzeria.
Amer Abdallah is CEO and President of both Lockport Athletic & Fitness Club and Lace Up Promotions. Lace Up has been hosting kickboxing, boxing and Muay Thai events around the upstate New York area since 1998 and has opened markets in Syracuse, Rochester and Connecticut. They have hosted events in Texas and New Jersey. "It's been such a blessing to have an opportunity to do what I love and be a part of so many communities. In each town we promote these events we feel right at home," says Abdallah. Visit Lockport Athletic & Fitness Club homepage's website at http://www.lockportathletic.com and Lace Up Promotions at http://www.laceuppromotions.com. Like Lace Up Promotions on Facebook at: http://www.facebook.com/#!/pages/Lace-Up-Promotions/153547474674230