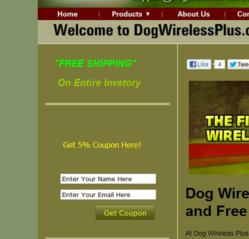 DogWirelessPlus.com adds a 5% Coupon
Annandale, New Jersey (PRWEB) November 29, 2012
Competition in the Wireless Dog Fence and the GPS Dog Collar niches is at an all time high. In an effort to compete as well as provide maximum value to its customers DogWirelessPlus.com has decided to offer a 5% Coupon to its customers. DogWirelessPlus.com also offers Free Shipping on its entire inventory.
Wireless dog products provide flexibility and convenience to dog owners in many different ways. Wireless Dog Fence can be set up quickly with no wires to bury providing an instant perimeter and a safe area for a dog to roam. There is some perimeter awareness training but once complete there is a safe and worry free area for pets.
The GPS Dog Collar niche has grown greatly in the past year with features including tracking, training and now even fencing and containment. A GPS Dog Collar can include a Dog Training Collar an addition to its normal locating feature. There are now GPS Dog Fence systems which create a circular boundary just like a Wireless Dog Fence and also include a training feature.
For customers who only need Dog Training Collars without GPS features DogWirelesPlus.com provides a variety of these for all dog sizes and types. The ultimate control for a dog owner when a dog is off leash is a GPS Collar with a Training Collar because correction stimulation can be administered and the pet can always be located if out of sight, however a more affordable option is a regular wireless Dog Training Collar.
About DogWirelessPlus.com
Started in the summer of 2012 DogWirelessPlus.com provides Wireless Dog Products to help dog owner's track, train, and contain dogs including Wireless Dog Fence, GPS Dog Collars, and Dog Training Collars. Some dogs may seem nearly impossible to train, but a simple wireless dog device can provide the solution. For the very best in Wireless and GPS products for dogs, shoppers can visit http://www.dogwirelessplus.com/