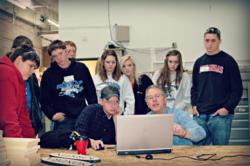 The FMT Patriot will enable us to take on new projects, and open the kid's eyes to different possibilities in the industry
Colorado Springs, CO (PRWEB) November 28, 2012
Freedom Machine Tool (FMT), a subsidiary of Diversified Machine Systems (DMS), a U.S. based 3 and 5 Axis CNC router manufacturer, recently hosted a group of high school students from Arnold, NE at their manufacturing facility in Colorado Springs.
The town of Arnold, Nebraska, a population of less than 600 people, is facing the same economic challenges small communities all across America have been confronted with for years, a declining population and a resulting lack of jobs. The Arnold Public School is doing their part to change the future for their town.
The visiting teens are part of a unique program called School House Graphic Products (SHGP), a student-run graphics company that operates as a "real-world business". The school's innovative educational curriculum encourages students to combine their artistic, technical, business and leadership skills under the mentorship of teachers and community leaders to design, create, and market products produced by their school-based company.
SCHP has purchased a FMT Patriot 4' x 4', a 3 Axis CNC router, which will allow them to pursue new opportunities, specifically in the 3D signage market, and will increase their overall production capacity. "School House Graphic Productions hopes to raise students' awareness of graphic communications as a career choice by engaging them in hands-on activities that will help them understand what it would be like to work in the graphics industry", according to Clay Mohr, SHGP Program Director. He continued, "The FMT Patriot will enable us to take on new projects, and open the kid's eyes to different possibilities in the industry".
Their visit to the DMS manufacturing shop included a talk from the President and CEO of Diversified Machine Systems & Freedom Machine Tool, Patrick Bollar, as well as a presentation from the CFO, Tanya Williams. During the tour, additional DMS and FMT employees took time to explain the systematic and complex process, by which a large high tech piece of CNC machinery is assembled in a U.S. manufacturing plant.
About Diversified Machine Systems & Freedom Machine Tool
Diversified Machine Systems (DMS) is a leading designer and manufacturer of 3 & 5 Axis CNC routers & custom machining centers, with headquarters in Colorado Springs, CO. With more than 30 years of innovation and industry experience as an Original Equipment Manufacturer (OEM), DMS' line of CNC routers and machining centers are routinely used on materials such as wood, composites, aluminum, steel, plastics, and foams. Our advanced machining centers are engineered to increase efficiency and productivity, while maintaining the quality and precision our customers have come to expect from DMS.
Freedom Machine Tool (FMT), a division of Diversified Machine Systems, is a manufacturer of affordable, 3 axis CNC routers. Located in Colorado Springs, Colorado, FMT was started to address the need in the market for a cost-effective, industrial quality CNC machining solution. With over 25 years of combined experience building CNC routers, the FMT development team is committed to producing a value-priced router without sacrificing on quality or reliability.
For additional information about Diversified Machine Systems or Freedom Machine Tool, please visit: http://www.dmscncrouters.com or http://www.freedomcnc.com
Contact: Ed Hilligrass, Vice President of Sales
Phone: (719) 226-5066
ehilligrass(at)dmscncrouters(dot)com