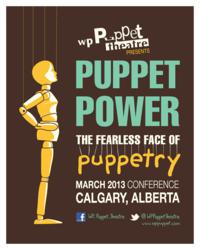 Any artist or advocate will have their creativity sparked!
Calgary, Alberta (PRWEB) November 30, 2012
There is a never-ending supply of issues and concerns in our communities. While puppets can't directly change the world, they are a catalyst for raising public awareness.Puppets are a unique and fearless way to start important dialogue and work to make positive changes.Puppet Power 2013, presented by WP Puppet Theatre, is the event that explores this power of puppetry beyond performance.
WP Puppet Theatre Artistic Director, Wendy Passmore- Godfrey explains, "At Puppet Power 2013, any artist or advocate will have their creativity sparked. Plus there are great opportunities to network, learn and brainstorm with celebrated professionals and like-minded masters from around the world like Martin P. Robinson of Sesame International fame. But by the end of the two-day conference, participants intend to be galvanized to put into action how puppetry can innovatively address the tough issues facing us in today's world."
Registration is now open for Puppet Power 2013, the Fearless Face of Puppetry, that runs March 9th and 10th, 2013 at Calgary's Coast Plaza Hotel and Conference Centre. The keynotes, hands-on workshops, peer mentoring and panel discussions are for educators, therapists, helping professionals, artists, activists, idea generators, thought leaders and students.
More information, bursaries and registration, visit http://www.wppuppet.com/puppet_power.htm.
WP Puppet Theatre Company is a not for profit charitable organization dedicated to creating innovative and educational performances and learning opportunities for young people, through the art of puppetry.
Media contact:
Shawna Ogston
Direct: 403.870.2009