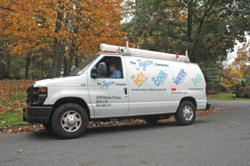 Union, NJ (PRWEB) November 30, 2012
B.J. Reisberg, Vice President and a Principle of The Jayson Company, is very excited about the authorized dealership and enhancement to the existing business, operating since 1926. The company's knowledgeable staff of water specialists and service technicians will be responsible for the sale and service of 3M Purification's portfolio of water conditioners, reverse osmosis and drinking water filtration and purification systems in Central and Northern New Jersey. The Jayson Company service area includes the New Jersey counties of Union, Essex, Hudson, Morris, Warren, Sussex, Passaic, Bergen, Hunterdon, Somerset, Middlesex, Monmouth, and Mercer.
The Jayson Company provides water quality analysis to residents and businesses in central and northern New Jersey areas. The water analysis identifies basic water quality properties, and a recommendation is given to address specific water quality concerns, including hard water and impurities in drinking water.one c
Consumers can also contact the water specialists at The Jayson Company with questions about local water quality and the effects it may have on water-using appliances, plumbing and fixtures, as well as drinking water, foods and beverages. The Jayson Company 3M authorized water dealer is located at 1250 Stanley Terrace, Union, NJ, 07083, and can be reached by calling 1-800-562-2777.
To learn more about 3M water filtration products, visit http://www.3MWater.com or call toll free: 877-344-1396.
About 3M
3M captures the spark of new ideas and transforms them into thousands of ingenious products. The 3M culture of creative collaboration inspires a never-ending stream of powerful technologies that make life better. 3M is the innovation company that never stops inventing. With $30 billion in sales, 3M employs 84,000 people worldwide and has operations in more than 65 countries. For more information, visit http://www.3M.com or follow @3MNews on Twitter.
About The Jayson Company
Founded by Cornelius Jayson in 1936, the Jayson Company is owned and operated by the third generation of the Jayson family. The Jayson Company grew to become one of the largest water conditioning, heating and air conditioning, fuel oil delivery and pool service companies in the state, and now serves all of Central and Northern New Jersey. Home owners and business owners depend on The Jayson Company every day for oil and gas heating systems, heating oil delivery, air conditioning systems, water softening, drinking water filtration, bottleless water coolers, and Anthony & Sylvan authorized pool service. They know they can depend on Jayson professionals at any time to do the job right and that there is a long-standing family reputation behind all the work. As The company slogan says, "Our family name is riding on every job."