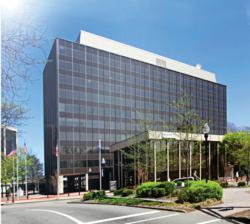 "Making this move will open additional doors for new business, make it more convenient for current clients to reach us, and bring us closer to the corporate-heavy Northeastern part of the state and its deeper pool of employee candidates," added Taeschler.
Morristown, NJ (PRWEB) November 29, 2012
GráficaGroup, a New Jersey-based integrated marketing and advertising agency that specializes in direct, strategic-based marketing communications, recently relocated to "the Green" in Morristown, N.J. Simultaneously, it launched its new web site designed to make it easier for companies seeking an advertising/marketing firm to quickly and creatively view the firm's capabilities and experience.
"Following 25 years in Chester, N.J., I thought it was the right time to move into a fully developed New Jersey business district," said Debra Taeschler, president and CEO of GráficaGroup.
GráficaGroup's new web site, http://www.grafica.com, features the company's new logo and branding, cleaner navigation, and robust search options to view the firm's extensive portfolio, capabilities, services, document library, case studies, bios, and more. It also features extensive social media options for visitors seeking to connect with GráficaGroup and its executives.
"Our new web site is exceptionally informative and easy to use, especially for companies seeking a forward-thinking marketing agency," said Taeschler. "Our goal was to provide enough information to educate visitors – without overloading them – on how GráficaGroup can help companies solve problems and better market themselves and their products and services. We'll find your customers!"
As a growing, full-service direct marketing agency, GráficaGroup is constantly seeking dedicated and talented professionals for a variety of positions. Interested parties should contact Anne Picone, general manager, at apicone(at)grafica(dot)com.
About GráficaGroup
Celebrating 26 years in business, GráficaGroup is an award-winning, results-driven, multi-channel agency that enables businesses to establish and nurture lasting, meaningful relationships with their customers across all categories. Clients include Fortune 500 and mid-sized B2B and B2C companies such as AT&T, Avaya, Century 21 Real Estate LLC, Horizon Blue Cross Blue Shield of New Jersey, Jackson Hewitt Tax Service, KPMG LLP, Morgan Stanley, PSE&G, Summit Medical Group, Trane, Weichert, Realtors, and Wells Fargo Home Mortgage, as well as public sector and not-for-profit organizations. For more information, visit http://www.grafica.com.