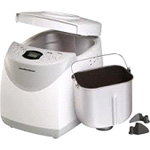 Atlanta, Georgia (PRWEB) November 29, 2012
10rate editors Brittany Rowland and John E. Moore cut through all the choices out there in the small appliance category to come up with their top choices. According to the Best Bread Machine page at 10rate.com they selected their top choices based on the following criteria:
1. Easy to clean with removable and non stick parts
2. Many different baking modes
3. How good the finished product is
4. Different loaf size and crust shade selections
5. Ease of use when it comes to programming
6. Price and performance
Panasonic, Cuisinart and T-fal all had highly rated bread machines according to the reviewers. Editors said, "A favorite among consumers, the Panasonic SD-YD250 provides several customizable options for bread-making, including different loaf sizes and shades. While it gives you a lot of choices, the design still makes it simple to program what you want and let it do its work" when reviewing the Panasonic SD-YD250.
Editors also evaluated and selected the Best Crock Pot based on the following:
1. Size of the crock pot
2. Material the pot and lid are made of
3. Highly programmable timer and temperatures
4. Dishwasher safe for easy clean up
5. Handles for safely moving the pot
6. Extras like a dip warmer
7. Price
According to reviewers Crock Pot, Hamilton Beach, and Cuisinart figured prominently in the rankings. When reviewing the the Crock Pot SCCPVL619 slow cooker, editors noted some of the highlights. Because this model "comes with a 16-ounce little dipper warmer, it's perfect for keeping dips warm for parties. The lid locks to make transporting the crock safe, and the crockpot automatically turns to the keep warm setting. For a high-quality slow cooker with a bonus dipper warmer, it's a fair value."
10rate.com conducts reviews in various product and services categories and publishes "Expert Top 10 Lists for Everything in your life." The company's web site strives to "Make it Easy" to select from the hundreds of choices there are in the product and service market place. All products and services are thoroughly researched by the companies expert editors prior to receiving a rating on a 1-10 scale. In addition to product reviews the companies editors write guidelines, buying guides and articles on various topics surrounding each product or service category covered to help educate the consumer.