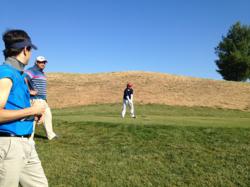 I am tired of Facebook, everyone is there. TheGrint is a place for me and my golf buddies to share our golf
Miami, FL (PRWEB) November 30, 2012
Most golfers use a Golf Handicap Tracker, but those same golfers are used to playing golf and sharing their rounds with their friends only once a week during the weekend. And while it is true that golfers will watch the golf channel, or read golf magazines. It is also true that those events have very little to do with their own golf experience.
TheGrint.com is a new kind of website trying to change that by becoming much more than a Golf Handicap Tracker and allowing members to enjoy golf outside the golf course. TheGrint members can interact with their friends, share their golf rounds, photos and statistics in an environment dedicated to golf.
Users register at TheGrint and add their friends and golf rounds. And right after they are automatically being ranked against their friends on what is called The Dashboard. This part of the website also provide members with a Facebook wall like feed, that share golf milestones of the user's friends like: "Joe golfer broke 80 for the first time. He scores 78 at Newbie Golf Club".
Surprisingly, this kind of social interaction is not commonly found on any Free Golf Handicap Calculator websites and TheGrint is trying to provide an environment for golfers to be able to interact with each other outside the golf course.
TheGrint launched on May of 2012 and have been growing steadily. The website is still on Beta mode and is free for everyone joining before the end of 2012. If you want to learn more about TheGrint you can contact them at contactus(at)thegrint(dot)com