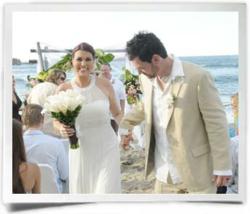 Enjoy the sheer bliss of this majestic location
Mendocino, CA (PRWEB) November 29, 2012
For couples planning their upcoming nuptials, the Mendocino Lovers' Sweepstakes offers a chance to win a free Mendocino Coast Dream Wedding – including the expert services of a wedding officiant. Those who enter the sweepstakes by December 31st are eligible to win.
Elope Mendocino is providing its complimentary services for the Mendocino Lovers' Sweepstakes dream wedding on the stunningly beautiful Mendocino Coast. "I will meet with the couple prior to the wedding to make sure the details are just right, incorporating religious elements or secular ones into the vows, and the personal reflections of the couple," said Vanna Freeberg, a wedding officiant and owner of Elope Mendocino.
"I'll include poems, scripture – whatever is desired," Freeberg said. "And if couples have personal things to add, we include them." It's all about being flexible, she said, and making it so the couple is enjoying the process. Freeberg said that her services help simplify things, for couples will often wait until the very end to decide on their marriage vows.
"Elope Mendocino takes care of all the details while you enjoy the sheer bliss of this majestic location," Freeberg added. "Simply put, you and your loved one will be completely immersed in the full experience and creation of memories on your special day."
"Vanna Freeberg's role as a wedding officiant is an important part of the larger dream wedding giveaway, which includes everything you need to make your wedding memorable," said Jean Bilolavek, the owner of JB Media Tourism Group and the sweepstakes sponsor. "The Mendocino Coast is ideal wedding setting with its majestic cliffs and expansive ocean views, and Vanna is the calming force to make sure things go as scheduled. She helps create a relaxed and joyous experience for everyone involved."
In addition to providing a wedding officiant, the Mendocino Coast Wedding package includes:

A wedding planner to organize your wedding and reception
A caterer to prepare a delicious wedding feast
A dream wedding at the Mendocino Coast Botanical Gardens
A stay at the Sea Rock Inn or Agate Inn
"Organizing a wedding can be very time consuming and expensive," said Bilolavek, "and businesses like Elope Mendocino go a long way to make it a pleasurable experience for everyone involved. Besides officiating, Elope Mendocino offers complete wedding packages, including lodging, floral arrangements, and photography, what Freeberg calls the 'crème de la crème' of wedding service providers.
Sign up by December 31st to be eligible to win the Mendocino Coast Dream and other grand prizes. Winners for all grand prizes will be announced in January 2013.
Contact Information
Jeane Bilolavek
JB Tourism Media Group
http://www.mendocinovisitors.com/
415.488.1285