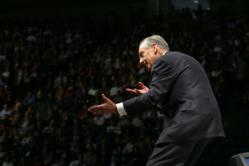 Dallas Texas (PRWEB) November 28, 2012
Zig Ziglar, the legendary "Master of Motivation" and "Mentor to Millions," passed away today at the age of 86 after a short bout with pneumonia.
The name Ziglar is one of the most recognized names in the world. Zig has been described as "One of America's Icons," "The Salesman's Salesman," and a legacy that will forever impact our history.
As a speaker, Zig has repeatedly appeared with six former U.S. presidents and U.S. and world leaders like Generals Colin Powell and Norman Schwarzkopf, Lady Margaret Thatcher, and Rudy Giuliani.
Zig Ziglar's message of hope and inspiration continues to bridge the gaps of age, race and gender, packing venues and arenas for over 40 years while impacting over a quarter billion people.
As a best-selling author, ten of Zig's 32 books on sales, motivation and life skills appeared on best-seller lists and have been translated into more than 40 languages and dialects worldwide.
Recognized for his work in several disciplines, Ziglar has been documented three times in The Congressional Record of the US for his work with youth in the drug war and for his dedication to America and the free enterprise system.
Zig is known for his devout Christian faith, always putting God first. His family states that though his time on earth has ended he is now speaking with Jesus in his heavenly home. The angels in heaven are singing and his family is celebrating a life well lived.
One thing is certain...Zig Ziglar will be missed by all, but the legacy he leaves behind will last forever.
You can contact Ziglar spokesperson Jay Hellwig at 214-557-8755 or by e-mail at jayhellwig(at)me(dot)com
The Ziglar website is http://www.Ziglar.com
Fans can leave tributes and comments on Facebook at http://www.Facebook.com/ZigZiglar