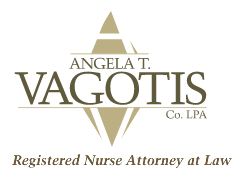 Most people spend more time looking for a plumber than they do for a doctor, but all medical care is not the same.
Canton, OH (PRWEB) November 29, 2012
Wrongful death lawsuits are nearly always in the news, most recently involving Utah parents suing over the death of their grown son after his release from a V.A. hospital and Virginia parents suing over the dental-related death of their six-year-old son.
But the most widely recognized wrongful death claim in recent years revolves around actor John Ritter's collapse on set and subsequent death from a torn aorta, registered nurse attorney Angela T. Vagotis said.
"His family settled with several defendants, but the jury eventually found in favor of the defense in the case against the radiologist who had performed a scan on Ritter two years prior to his death as well as an emergency room cardiologist who treated the actor at the time of his death," Vagotis said.
The anguish caused by such unexpected deaths as well as the questions that frequently surround their causes often obscure a very basic tenet of modern life, she noted. "No longer are any of us a master of everything. We all need to spend more time finding and vetting the professionals who provide the vital services that we depend on.
"We need to be good consumers," Vagotis said. "Most people spend more time looking for a plumber than they do for a doctor, but all medical care is not the same. Good doctors welcome the opportunity to share their credentials and references."
Of course, medical malpractice isn't the only cause of wrongful death, which can occur as the result of a wide variety of incidents, including:

When selecting an attorney to represent a wrongful death claim, equal care is required to ensure hiring the right lawyer to assess and represent your case, Vagotis said, suggesting several areas that should be reviewed:

Experience – has the attorney handled a wrongful death claim before?
Track record – how successful has the attorney been in representing those cases?
References – how do past clients feel about the way their cases were handled?
"If the attorney isn't the right fit for someone's circumstance, the person shouldn't be afraid to – politely – say so," Vagotis recommended. "And they don't have to be afraid to ask for suggestions of other possible lawyers. Attorneys are glad to refer people if they feel another lawyer would be more appropriate."
Based in Canton, Ohio, Angela T. Vagotis is a registered nurse attorney, specializing in medical malpractice cases. Call 330-456-4122 to learn more about how her years of nursing experience combine with her extensive legal expertise to create a unique perspective for her work.