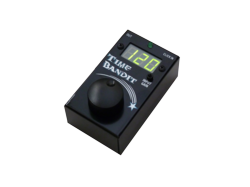 Time Bandit – The only BPM generator and click track converter for guitar delay pedals. It's time to stop tapping!
Spring Hill, TN (PRWEB) November 29, 2012
Visual Sound, a leading brand in the guitar pedal effects market, has released their latest, highly unique product: Time Bandit. Invented by the legendary R.G. Keen with Bob Weil, Time Bandit fills a void for guitarists who use Tap Delay and other time-based effects.
In the studio, the Visual Sound Time Bandit makes using time-based effects processors a piece of cake. That's because the Time Bandit is made to convert an incoming click track signal into a tap tempo signal that guitarists can plug directly into their time-based effects like delays, tremolos, and more. Simply connect a click track to the Time Bandit, then connect the output to your processor's Tap Tempo input, and it's ready to go. In summary, if someone is playing or recording to a click track, make the effect follow tempo automatically with the Visual Sound Time Bandit.
The Time Bandit can also act as a BPM (Beats Per Minute) generator. Just turn the large dial until the desired BPM is displayed in the bright LED window. The Time Bandit will send that tempo information to the delay pedal with no tapping required. This particular feature was requested of Visual Sound by the band, Paramore.
Visual Sound Time Bandit Features:

Click track to tap tempo converter, to control time-based effects processors and pedals.
1/4" input for click track signal.
1/4" output to connect to effect's Tap Tempo input.
Built-in BPM generator can send precise tempo without a click track input.
Ideal for making effects follow tempo changes automatically.
A video demonstration of the Visual Sound Time Bandit (featuring Producer/Songwriter/Guitarist Clint Lagerberg) can be viewed here. Time Bandit is now shipping to stores worldwide in time for the holiday season.
About Visual Sound
At the beginning of 1995, Bob Weil and his wife Julie started Visual Sound in their apartment. Since then, Visual Sound has become known as one of the premier guitar effects and power supply manufacturers in the world. The motto, "Real Tone for Real People", perfectly articulates this Tennessee company's philosophy. "My goal has always been to make the best products money can buy at a price the average musician can afford", says Weil.