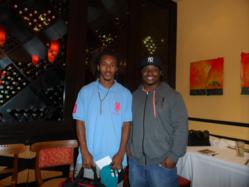 Anything is possible but you have to put in the time and go the extra mile, you have to commit.
Jacksonville, FL (PRWEB) November 28, 2012
Jacksonville Jaguars' standout, Maurice Jones-Drew treated members of Andrew Jackson Senior High School's football team to an unforgettable dining experience at Roy's Restaurant. The star running back used his annual holiday celebration as a time to encourage and mentor the student athletes.
Maurice's goal was to give the students an all-around, impressive experience, starting with roundtrip transportation in a luxury, stretch SUV limo. Upon arrival, they were greeted by Maurice and escorted into a private dining room. Roy's Chef Partner Adam Hyatt crafted an exceptional menu especially for the group, highlighting the stellar Hawaiian fusion cuisine with selections that included hangar steak and hibachi salmon. He wanted to ensure that the group had a true fine dining experience.
While the teens were overjoyed just to have lunch with Maurice, his true mission was to use the event as an opportunity to impart some important life lessons to the group. Throughout the lunch, the students had a lively discussion with Maurice, who touched on a variety of topics but emphasized the importance of a good work ethic and commitment. The AJHS team has had their fair share of troubles and Maurice stressed the need for individual and team accountability.
Although this was a new group of student athletes, Jones-Drew has prior ties to AJHS, which is Jacksonville's oldest, fully accredited school. In 2009, The Maurice Jones-Drew Foundation donated cleats and uniforms to the team. He also hosted his annual, free youth football camp at the school's field. At one point, a former Jaguars' teammate of his coached the high school players. Maurice closed the lunch by giving each player a personalized book bag that included shoes and clothing.
"Many kids want to do something with their lives but I've seen them give up at the first sign of adversity" said Jones-Drew. "They say things are too hard and just give up. I wanted them to know that it takes a lot of work to reach any goal, and sometimes you'll have to leave some friends behind, simply because you are going in a different direction. I explained that it took a lot of hard work and sacrifices to get where I am today. Anything is possible but you have to put in the time and go the extra mile, you have to commit."
Maurice was joined by his mom, Andrea Jones-Drew, who oversees his foundation and is the driving force behind its' various initiatives aimed at helping youth in their communities reach their fullest potential. They established the Maurice Jones-Drew Foundation to promote the future success of disadvantaged youth by providing growth and leadership opportunities.
To view photos from the mentoring lunch please visit: http://on.fb.me/YrC3T3