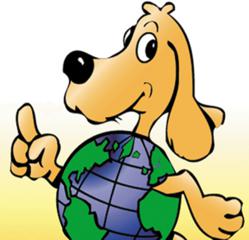 In addition to the fiscal cliff special, for a limited-time Free offer of The Earth Dog Story in iTunes
Bethesda, Md. (PRWEB) November 30, 2012
As the U.S. "fiscal cliff" budget talks between the White House and Congress continue with the aim of averting major federal tax increases and spending cuts in the new year, environmental superhero Earth Dog is consoling anxious U.S. consumers by offering recently released children's e-bookThe Earth Dog Story free-of-charge on iTunes through December.
To avert the fiscal cliff crisis rooted in deepening U.S. debt troubles, which threatens to send the fragile U.S. economy back into recession, leaders in Congress hope to reach a legislative compromise soon hinging on achieving the right balance between targeted revenue increases and spending cuts. Proposals under discussion include increasing the top income tax rate, raising the capital gains and dividends tax rates, closing tax loopholes, reducing discretionary spending and reforming entitlements.
The term "fiscal cliff" refers to the economic predicament that the U.S. government faces at the end of 2012, when the terms of the Budget Control Act of 2011 are scheduled to go into effect. Tax increases set for December 31, 2012, include elimination of the 2001-2003 tax cuts, payroll tax cuts and select business tax breaks, as well as expansion of the alternative minimum tax and imposition of taxes related to President Barack Obama's health care law. The tax increases are to be accompanied by deep, automatic spending cuts, as agreed to in the 2011 debt ceiling deal, affecting an estimated 1,000 government programs and disproportionally targeting the defense budget and Medicare.
In addition to the fiscal cliff special, limited-time free offer of The Earth Dog Story on iTunes, environmental superhero Earth Dog also has spawned a new line of promotional products available in time for the holiday shopping season on the new Earth Dog online store, in partnership with online retailer Zazzle.com. The Earth Dog store on Zazzle.com, which offers a range of holiday gifts, is currently available at http://www.zazzle.com/earthdogstory/gifts.
The Earth Dog Story e-book is featured on Apple iTunes and Amazon Kindle. Young readers are turning to e-books in record numbers, and e-book readership now surpasses that of traditional books, according to reports.
Environmental superhero Earth Dog educates young people around the world about environmental issues affecting their planet. He teaches problem-solving skills through understanding and cooperation to students for whom the environment is a top concern.
The Earth Dog Story was first published as a storybook in 1992, then in 1996 in cooperation with the U.S. Department of Energy as a part of its Environmental Out Reach Program with Weekly Reader. Now, the popular children's environmental superhero is making his comeback in app and e-book format with auto-narration to appeal to children of all ages. Earth Dog® became available as an app in iTunes and as an e-book, titled The Earth Dog Story, just in time for Earth Day 2012.
For more information, readers should visit the new Earth Dog website at Earthdog.org or The Earth Dog Story at Earthdogstory.com.
###