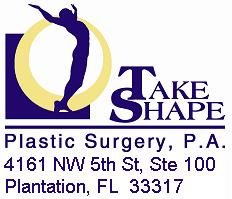 Sculptra is the only injectable that stimulates the body's natural collagen production.
- Dr. Russell Sassani
Fort Lauderdale, FL (PRWEB) November 30, 2012
The surgeons at Take Shape Plastic Surgery in Broward County will be offering special pricing on the filler Sculptra Aesthetic on December 6th at 5:00 PM at their clinic. Valeant, the company behind the product, is collaborating on the event. Drs. Sassani, Dreszer and Low are well versed in using the injectible and find it to be a superior solution for their patients.
As people age, it is common to see detrimental changes in the face that are frequently attributed to alterations of the skin. Recent studies however have shown that the root cause is a much deeper one. Namely, the loss of facial volume appears to be one of the most important factors contributing to the aging appearance of the face. More specifically, loss of facial fat and facial skeletal architecture cause far reaching changes that can be seen on the surface. The deep nasolabial folds, marionette lines and jowling are actually a result of this deeper pathology. The facial skeleton, like other parts of the body's skeleton undergoes bone loss, further accentuating the aging effects seen on the surface.
Traditionally, people who are not ready to undergo surgery, but are ready to improve their appearance, have turned to "fillers". These products include fillers such as Radiesse (Hydroxy Apatite), Restalyne, and Juvederm (both Hyaluronic Acids). These are good products when used correctly, and for the correct indications, however, they are short lived. Additionally, they truly work simply as fillers, and as such they are merely masking the underlying volume loss.
Sculptra, was initially approved only for the treatment of Lipodystrophy (Fat volume loss). Patients experiencing loss of facial volume secondary to disease or medications were approved to be treated with Sculptra, to restore facial volume. The results seen in this patient population were so encouraging, that the makers of Sculptra applied for and received FDA approval for the use of Sculptra aesthetically in 2009. Since then, Sculptra has become a mainstay in the treatment of facial jowling, deep nasolabial folds, marionette lines, hollow temples and poor cheekbone definition.
Sculptra is formally known as L-Poly Lactic Acid. It functions as a bio-stimulator, rather than as filler, and is the only product of its type on the market. The L-Poly Lactic Acid molecule actually acts by causing a reaction in the skin and deeper tissues to activate the body's own production of collagen. This is the only product available that stimulates the bodies Fibroblast cells to produce collagen, and by doing so increases facial volume and improves deep folds and wrinkles.
Sculptra works incrementally taking full effect after six weeks to six months depending on the degree of correction desired. It works by stimulating the body to produce natural collagen. This has the advantage of improving the aging face gradually, making the improvement appear more natural than the Fillers. Sculptra has the added advantage of lasting years, as compared to fillers which last six months to one year at most.
Drs. Sassani, Dreszer and Low are experts at using Sculptra in Fort Lauderdale to rejuvenate the aging face. They leave it looking fuller, with more toned skin and improved deep and moderate wrinkles.
In addition to cosmetic procedures, Take Shape Plastic Surgery, P.A., also offers a wide array of major cosmetic surgery including facial aesthetic surgery, body contouring, and breast augmentation in Fort Lauderdale. The center also offers extensive reconstruction of the face and body after cancer or trauma.
Also on premises is Take Shape Surgery Center, L.L.C., a Medicare-certified, state-licensed and nationally-accredited, ambulatory surgical center. This facility offers a more personalized, convenient and comfortable experience for patients.
Patients can be assured that the plastic surgeons at Take Shape Plastic Surgery in South Florida, possess the skills, training, and aesthetic eye to ensure that the patient's desired cosmetic result becomes a reality and that reconstruction patients achieve the best possible outcome.
For more information those interested can call them at 954-585-3800 or visit them on the web at http://www.takeshape.info. The clinic Take Shape Plastic Surgery in Plantation is located at 4161 N.W. 5th Street.