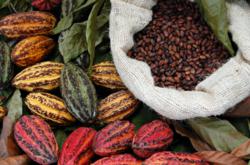 "Brewing cocoa is unlike anything you have ever tasted before, it's not coffee, it's not tea, and it's certainly not hot chocolate."
Denver, CO (PRWEB) November 30, 2012
CocoaJoe, LLC has officially launched their new company and website http://www.drinkcocoajoe.com. CocoaJoe is a Denver based company that sells premium brewing cocoa through their website. Although the company does not currently have any physical store locations they are aggressively planning to expand into local and regional grocers, bakeries, cafes, restaurants, coffee and tea shops, and yes, even breweries. CocoaJoe is the newest arrival in the growing health beverage category, which has been fueled by increased consumer demand for healthier, all-natural beverages that are free from chemicals, sweeteners and artificial flavors and other unnatural ingredients.
CocoaJoe is one of the early pioneers in developing this great tasting, all-natural, organic, premium brewing cocoa. "Brewing cocoa is unlike anything you have ever tasted before, it's not coffee, it's not tea, and it's certainly not hot chocolate. It is 100% natural, and contains no added ingredients, no sugar, no fat, no sodium, no cholesterol, no gluten, no added anything. Produced pure and natural as nature intended." Stated Thomas Schumacher, CEO and Founder of CocoaJoe.
Brewing cocoa is produced by roasting raw, organic brewing cocoa beans, then grinding the beans to a course grind after they have cooled. Preparing the ground cocoa is similar to tea or coffee, it must seep in hot water to bring out the rich, natural, chocolate flavor. Yet unlike tea or coffee the longer it bathes in hot water the more flavorful it becomes, where tea or coffee can become acidic or bitter.
Due to the cocoa beans unique properties, CocoaJoe has conducted extensive experimentation with the roasting, grinding and brewing processes to perfect the final product and bring out the richest aroma and flavor of the cocoa beans. "We have found the best way to brew the cocoa is to boil a kettle of water, then add the brewing cocoa and simmer for at least 10 minutes before drinking. We refer to this as the Mayan Method, since this is how the ancient Mayan kings and rulers had their cocoa prepared for them." Mr. Schumacher stated.
The brewing cocoa is available for purchase in ½ pound and 1 pound bag sizes. Brewing cocoa is 100% all natural, produced from organic cocoa beans imported from Fair Trade or ethically traded and sustained farmers located closest to the equator.
Cocao or Cocoa is often referred to as a "Super Food" for it's healthy properties. Brewed cocoa is naturally low in calories and contains no sugar, fat, gluten, sodium, or cholesterol and is extremely high in antioxidants, flavanols, natural brain stimulating compounds, vitamins, minerals and theobromine, a safe, non-addicting, natural energy boosting compound. The theobromine naturally found in raw cacao is a mild, non-addictive stimulant that some believe can treat depression. It may cause the brain to produce more of a neurotransmitter called anandamide which would account for the euphoric sensation some feel when indulging in chocolate. The name of the substance was taken from the genus name for the cacao plant, Theobroma, which means "food of the gods" in Greek.
Customers can purchase premium brewing cocoa from CocoaJoe's website at http://www.drinkcocoajoe.com. The company is offering free 2 ounce samples of ground brewing cocoa to the first 500 people to respond. To take advantage of this offer go http://www.drinkcocoajoe.com, click on "Shop," select "Free 2 oz. Sample Pack" on or before December 31, 2012. There is a nominal fee of $3.00 to cover the shipping charges. This offer expires once the 100 samples are gone. So if you're interested in trying the "drink of the Gods" sign up for your free sample today.
About CocoaJoe, LLC
CocoaJoe is a Denver based company that produces hand-crafted, artisanal batches of premium brewing cocoa. The company is committed to purchasing organic cocoa beans from Fair Trade and ethically traded and sustained farmers located throughout the world. The company is dedicated to educating the world on the health benefits and great taste of this new, yet ancient, beverage. CocoaJoe endeavors to improve the world one cup at a time. To learn more about CocoaJoe or to order their premium, organic brewing cocoa visit http://www.drinkcocoajoe.com