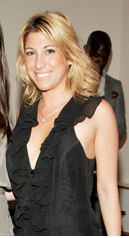 The Carbon Membership commits you to sharing in the ultimate goal of cultivating a positive and enriching environment for all members and guests
(PRWEB) November 30, 2012
Carbon NYC welcomes Liz Rubin to the organization this month. The organization has taken on new life with this addition to the team. Liz Rubin brings 10 years of hospitality and event management experience to Carbon.
"Carbon is first and foremost a strong network of New York's top business professionals; this is where the value of the organization lies. What is unique about Carbon when comparing it to other exclusive networking groups in New York City is the nature of our events; we offer tremendous social and business networking for our members in interesting forums. The relationship building that takes place is not forced and happens organically. 2011 will be an important year for Carbon with our Annual Charity Gala on May 7th reaching new heights and our membership continuing to expand with new members of the highest caliber." -Liz Rubin, President and General Manager
Liz joined Carbon in November of 2012. Liz has many years of hospitality and concierge expertise with luxury lifestyle brands. She worked with Quintessentially, as the Membership Manager for New York, Miami, and Los Angeles. She helped to develop global sales strategies as well as launched numerous corporate affiliations with international partners.
Carbon is a New York based invitation-only social network of international business leaders. Criteria for membership are outstanding professional achievement and a demonstrated passion for non-work related pursuits, including the arts, philanthropy, technology, sports and leisure. The foundation of Carbon Membership is integrity and a commitment to actively participate in events and support other members professionally and personally. Carbon events give members unique access to the best that New York City has to offer, while fostering personal and business relationships.
For inquiries, please contact:
info(at)CarbonNYC(dot)com
Tel: 917-494-1644