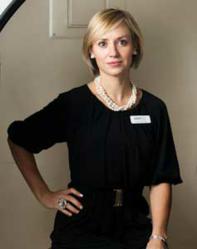 "I'm honored to be part of such an accomplished group of individuals. And I've been blessed with a great support network and a team of colleagues who have made AdvisorsMD one of the most respected healthcare consulting firms in the region,"
Daphne, AL (PRWEB) November 30, 2012
Ashleigh Ledbetter McKenzie, principal of healthcare consulting firm AdvisorsMD, was selected for Mobile Bay magazine's fourth annual Top 40 Under 40 awards, a program to recognize 40 of the top individuals younger than age 40 who demonstrate leadership, professional excellence and a commitment to the Bay area community. The winners will be recognized at a luncheon on Wednesday, November 28 in Mobile, AL.
"I'm honored to be part of such an accomplished group of individuals. And I've been blessed with a great support network and a team of colleagues who have made AdvisorsMD one of the most respected healthcare consulting firms in the region," said McKenzie.
Ashleigh McKenzie co-founded AdvisorsMD after nearly a decade of experience in corporate management. At AdvisorsMD, she works with healthcare organizations to improve their business processes and expand their patient referrals. To provide clients with exceptional results, McKenzie places a strong focus on creating solutions that not only increase profitability, but also work toward increasing the quality of patient care.
Most recently, McKenzie led her company to develop the software application MDreferralPRO, which is a business development solution for hospitals and physician practices. The web-based solution was made public in August 2012 is already reaching national acclaim with healthcare organizations throughout the country.
Prior to joining AdvisorsMD, Mrs. McKenzie was the Senior Business Development Executive for CIBER, Inc., a billion dollar IT consulting firm, where she led operations in Alabama working with private and state government agency leaders, legislators and technologists. She was responsible for the implementation of complex computer systems and maintained political and business relationships. In addition, she managed a number of private and government healthcare sector clients across the Eastern United States.
McKenzie is a graduate of the University of Alabama. She is currently is a Board Member of Alabama Healthcare Executives Forum (the official Alabama Chapter of American College of Healthcare Executives), is a member of the American College of Healthcare Executives, HIMSS (Healthcare Information and Management Systems Society), American Association of Physician Liaisons, National Association of Physician Advisors, NAPR (National Association for Physician Recruiters). Ashleigh is active in the community as a member of the Junior League of Mobile, and as a volunteer for Family Promise of Baldwin County, AHERO (America's Heroes Enjoying Recreational Outdoors) and Baldwin County Backpack Program.
Mobile Bay magazine is the premier lifestyle magazine of Alabama's Gulf Coast. It has been in publication for 40 years, covering topics such as food, fashion, heritage and up-and-coming trends. More than 90,000 readers turn to Mobile Bay each month for its stunning photographs and in-depth profiles of life in the Bay area.