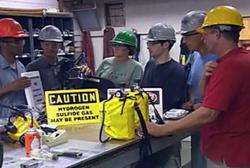 Novi, MI (PRWEB) November 29, 2012
Recent news of contamination resulting from a Louisiana sinkhole has brought the topic of hydrogen sulfide to the forefront of industrial safety concerns. Hydrogen sulfide (H2S) is a potent chemical asphyxiant, and a hazard of many common occupations including those in oil and gas, pulp and paper manufacturing, chemical manufacturing, and waste disposal. Properly trained employees can prevent potential deaths and negative health effects caused by repeated H2S exposures, not only for themselves, but their surrounding communities. Mastery Technologies released a new online training course, "Hydrogen Sulfide Employee Training," to help employees learn how to safely work in areas where H2S may be present.
Hydrogen sulfide, also commonly referred to as sewer gas or swamp gas, is a colorless gas, and is heavier than oxygen causing it to concentrate in low lying areas or confined spaces. According to the Occupational Safety and Health Association (OSHA), H2S occurs naturally in crude petroleum, natural gas, and hot springs; it is also produced by the breakdown of organic wastes and sewage. Even those in the transportation industry must be mindful if they are driving onto sites where H2S may be present. It is crucial for these industries to provide employee safety training.
Mastery Technologies' newest title on this topic includes comprehensive information on Hydrogen Sulfide safety. The course educates workers on the origins and risks of H2S, how to recognize the presence of H2S, and how to safely work in low level zones or evacuate highly contaminated zones. Being able to recognize signs and symptoms and follow safety procedures is critical.
Mastery Technologies prides itself on providing thorough online training consistent with OSHA guidelines. Training on how to work safely around Hydrogen Sulfide helps you meet OSHA requirements, while potentially saving lives. H2S is a serious matter, so consistent follow up training is necessary. Implementing and maintaining a trained workforce is made easier with online resources, such as this Mastery Advantage™ course.
This course is available for pay-per-view pricing at $39.95 per learner. Mastery awards continuing education units (CEUs) for the completion of the course; additionally learners may print certificates of course completion from the web site.
As an Advantage™ course lesson interactions keep learners engaged in training and provide opportunities to apply what they have learned. To ensure the promise of mastering all course objectives, each missed question is followed by a review of the specific content. At the end of each lesson's quiz, the program reviews each area the learner had difficulty with until 100% mastery is successfully demonstrated. This title is also available in the briefer Video On Demand format.
About Mastery Technologies Inc.
Mastery Technologies, founded in 1974, has partnered with leading video content providers to co-produce the largest interactive multimedia training library available to the workplace health, safety and environmental marketplace. Today, Mastery is extending their model to encompass all areas of workplace training. Mastery has helped thousands of companies create safer and more secure workplaces. By expanding the scope of training Mastery believes it can enhance customer benefits, and help build more successful and effective organizations. Mastery's ultimate vision is to help reach every working individual with quality training.