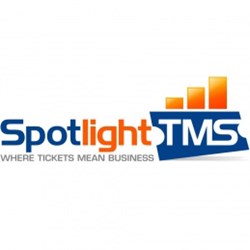 Every year sports tickets are a topic of discussion in budgeting. It is vital companies are making decisions based on tangible data during today's economy.
Calabasas, CA (PRWEB) November 29, 2012
Spotlight Ticket Management announced today a year end promotion encouraging businesses to demand more from their sports tickets and suites in 2013 with three months of SpotlightTMS free. Spotlight believes December to be an important month for sports ticket management as businesses plan for the coming year and use up leftover 2012 budget.
"The end of the year is a great time to kick off ticket management as budgets are resetting and firms need more from their current assets," said Spotlight CEO Tony Knopp. "It's a time of hard decisions: what to cut and what to keep. We are offering such an aggressive discount on our most popular product as we want companies to get more from their current assets starting with 2013."
In today's economic climate, sports and concert tickets and luxury suite are a common topic during planning. "Every year sports tickets are a topic of discussion in budgeting. It is vital companies are making decisions based on tangible data during today's economy" said sports business expert Jimmy Lynn, Managing Partner, JLynn Associates.
Spotlight simplifies tickets by allowing users to request and buy tickets on their mobile phone, in their CRM as an official Salesforce.com partner, or right in their inbox with the new Spotlight for Microsoft Outlook add-in.
The promotion is simple: sign up for Spotlight Ticket Management prior to January 1, 2013 and receive the first three months free. No payment will be due until April 1st for all new customers. "This is a great opportunity for firms recognizing they are punishing their staff with outdated spreadsheets and confusing processes to make the move so many global companies have already made," said Knopp.
Spotlight Ticket Management is a SaaS provider helping companies like AT&T, HP, Oracle, and hundreds more with their sports and concert suites and tickets since 2007 while partnering with top legal and accounting experts to tackle the multiple regulations around tickets. Spotlight partners with over 50 teams and venues to help with tickets and recently reported record growth numbers.
"We believe this is just the incentive for those that know they need more from their tickets," said Knopp. "Tickets can finally mean business in 2013."
About SpotlightTMS
Spotlight Ticket Management (http://www.SpotlightTMS.com) is where tickets mean business. Spotlight makes company tickets simple by enabling companies to measure the business impact of sports and entertainment assets while staying compliant.
Described as "Necessary in Business" by CNBC, Spotlight Ticket Management offers a variety of software products and services to help companies of all sizes use the tickets they own, buy the tickets they need, and stay compliant to all federal, state, and local regulation without adding another layer of red-tape or confusing software.
Spotlight makes tickets available where the business user lives; whether in their CRM, Inbox, or through their team and venue partners. Spotlight partners with over 50 professional sports teams and venues as well as industry leading partners Salesforce.com and Concur. The company is based in Calabasas, CA.