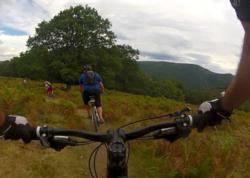 from entry level rides for the inexperienced to challenging high endurance, high energy rides that will test even the best
Santander, Spain (PRWEB) November 29, 2012
Northern Spain´s rugged Cantabrian Mountains stretch across Green Spain providing miles of opportunities for mountain bikers of all levels to experience unique rides. Northern Exposure Spain is expanding its offer of adventure activities to its clients by partnering with North Spain Mountain Biking.
Northern Exposure Spain and North Spain Mountain Biking (NSMTB) are both based in Cantabria, at the heart of Green Spain. This off the radar region of Northern Spain is known among Spaniards for its rugged landscape and stunning coastline but remains relatively unknown outside of Spain. The region boasts a UNESCO Biosphere Reserve in the Picos de Europa National Park as well as six other Protected Natural Areas encompassing forests, rivers, mountains, wetlands and coastal areas providing a wide range of options for mountain bike riders of all levels.
Alex Fernandez Bedia, owner and rider-guide of NSMTB commented, "It´s exciting to team up with Northern Exposure Spain to offer their clients the opportunity for a little dose of adrenaline while touring Green Spain. We offer a wide range of rides from entry level rides for the inexperienced to challenging high endurance, high energy rides that will test even the best riders both physically and technically. We are always ready to hit the trail."
NSMTB provides all the equipment necessary for a fun and safe mountain bike experience including full suspension Cannondale Jekyll Alloy 4 mountain bikes and protective gear. Their licensed and experienced guides ensure that riders get the most of their ride without worrying about getting lost or into trouble. From easy coastal routes to aggressive single-track descents, NSMTB tailors rides to match experience levels and ensure an enjoyable outing for all.
"Expanding our offer to include mountain biking of all levels is part of a new initiative at our Company that will include more guided adventure activities," stated Charles Schwalbe, Chief Experience Officer of Northern Exposure Spain. "We will combine active adventure options with our cultural offer which focuses on the things that make this area of Spain so unique: world class history, our unique culture and the marvelous food and wine, all within a spectacular natural setting. We expect to launch our Cultural Adventure Tour for 2013, which will also offer many other activities such as canyoning, caving and zip lining, in addition to mountain biking with Alex and his crew."
A sneak peak at this new collaboration with NSMTB can be viewed in this Northern Spain Mountain Biking Video. Northern Exposure Spain is about letting travelers enjoy the things they love while experiencing a place they have never heard of, but won´t soon forget. Interested travelers can learn more about the Company and planning their unique visit to Northern Spain here, or contact Charles Schwalbe directly at 888-737-8146.
About Northern Exposure Spain
Northern Exposure Spain provides unique, custom tours in Northern Spain. Based in Cantabria, at the heart of Green Spain, the Company tailors tours to client preferences and interests, highlighting the history, cuisine, wine, culture and natural beauty of this lesser known but surprisingly rewarding area of Spain. Active options and adventure opportunities are always available.