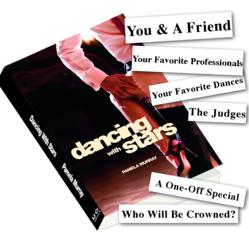 "A good story can make readers believe they are in the thick of the action. However, a great story contains their actual name and a number of other details about them, making it an extra special experience"
Russellville, Kentucky (PRWEB) November 29, 2012
U Star Novels have already made literary history with their diverse range of personalized novels, allowing readers to put themselves directly into their favorite classic or into many original romantic titles, and never before has reading a book appeared so true to life.
Now, fans of the popular television programme can try their own hand at wowing the judges and scooping the Mirrorball Trophy, as they shimmy their way into a story where they are the star.
'Dancing With Stars' Synopsis:
Our leading ladies love the TV show, so when a special episode is announced giving five members of the public the chance to dance and perform instead of celebrities, our leading ladies can't wait to enter!
 
Miraculously both are chosen, and are whisked away to the television studios where they are paired with their favorite professional dancers and undertake a grueling practice schedule to get them ready for the live shows. Desperate to fit into the world of the dazzling and the beautiful, they quickly find themselves drawn into the backstage drama and left wondering if they really have what it takes to survive? 
As the climax builds to the grand finale will our leading lady's Dancing With Stars dreams become a glittering reality? Or will her chances be sabotaged? And if so, by whom? Shake your sequins and polish your dancing shoes, and be prepared to be swept off your feet in this fantastic new personalized book that is a must for anyone who has ever wished they could be part of the glamorous world of 'Dancing With Stars'.
The book's unique personalized theme is achieved by collecting a number of details about the two female 'stars' during the order process, where they can choose their favorite professional dancer and select their favorite dance to impress the judges with their best steps. Further custom information is collected, such as hair color, eye color, favorite clothes color and more, which is then entered into the book's plot by one of U Star Novel's book editing specialists, before being printed in the United States and shipped within seven days. Those choosing an eBook version could see their order delivered within twenty four hours.
"A good story can make readers believe they are in the thick of the action. However, a great story contains their actual name and a number of other details about them, making it an extra special experience," says Katie Olver, Managing Director of U Star Novels.
She continues, "Never before has reading a book been so vivid, engrossing or entertaining."
The company can also produce personalized versions of a number of literary classics, including Pride and Prejudice and Romeo & Juliet. In fact, U Star Novels already hit the headlines this year when they announced a number of personalized erotic novels based on the '50 Shades' phenomenon.
Back on the dance floor, their latest title is poised to become a hugely popular gift for Christmas and Mother's Day. So quickstep over to U Star Novels and act fast to avoid disappointment.
For more information on this novel and the entire U Star Novels range, please visit: http://www.ustarnovels.com
About U Star Novels
U Star Novels is the world's leading company of personalized novels.  
Each of the company's expansive range of books is available for complete personalization, with up to thirty unique elements in each book.
The entire range is available in both eBook and paperback formats, with electronic delivery taking just a few hours.