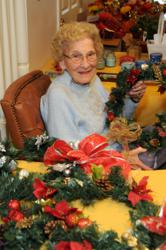 Hingham, MA (PRWEB) November 30, 2012
Is the holiday season really that different from other times of the year? Of course it is! The next few weeks bring great opportunities for joy and happiness, particularly for older adults and their aging parents. But so many opportunities all at once can be overwhelming, and for many older individuals it is more difficult to get around, or they worry about the risk of falling during the late fall and winter months. So what is the trick to celebrating the holidays without feeling stressed? Here are a few ideas.
Do what brings a smile, don't worry about the rest and come for lunch and enjoy an event at a Welch Healthcare & Retirement Group assisted living residence along the Massachusetts South Shore.
Go ahead and do the things that truly bring joy. Plan on how and when to do them so there are no time pressures. Leave enough time for the usual holiday traditions—from cooking and baking, to shopping and hosting—so they do not feel like burdens. Lighten the load; free up more time; and appreciate the wonders of the season.
Do seek out occasions to share holiday joy with family and friends. Call someone who is too far away to visit or attend a musical event. Celebrate the holiday season in ways that make it the most wonderful time of the year for all, and the joy you feel will become contagious.
Allerton House Assisted Living Communities are a wonderful way to de-stress during the holidays in Duxbury, Hingham, Marshfield, Quincy and Weymouth. The assisted living residences are offering a Winter Short Stay Special until January 31, 2013. Seniors, 62 and older stay in beautiful fully furnished apartments for two weeks, and only pay for one week. The offer is based on apartment availability.
Other great ideas include attending an event or club at one of the communities. For example, learn how to use an iPad or relax with a tai chi or yoga class. Every month Allerton Houses offer a range of clubs and classes, specifically tailored to residents' interests. Check out the book club, travel club and creative writing club. Perhaps your interests are more artistic. Call the Allerton House of your choice to find out when the next charcoal drawing, oil or watercolor painting classes will be held and ask to join in.
Welch Healthcare & Retirement Group is a respected family name in senior housing, healthcare and short-term rehabilitation and long-term care. The company, led by third and fourth-generation family members has been a trusted resource for more than 60 years.
For more information about life at a Welch Healthcare & Retirement Group Assisted Living Community visit: http://www.assistedlivingmablog.com