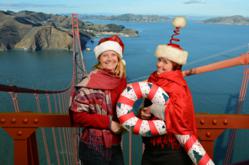 (PRWEB) November 29, 2012
CREATE FUN (VIRTUAL) HOLIDAY PHOTOS THIS SEASON ATOP THE GOLDEN GATE BRIDGE
Enjoy the Golden Gate Bridge Photo Experience this Holiday Season With a 25 Percent Discount at the Historic Round House
What: Can you picture yourself climbing up the main cable of the Bridge. Or standing on top of the Bridge's south tower? Yes, you can! The Bridge Photo Experience harnesses the power of "green screen" technology to put you in impossible places. Become a "virtual visitor" to off-limits areas and amaze and impress your friends with a commemorative photo. And now you can create your most fun and unique holiday photo ever—atop the Golden Gate Bridge (virtually) and take 25 percent off this holiday season!
When: Until December, 31 2012. Get 25 percent off any two photos for just $15.00. Mention the "holiday special" to receive the discount. Hours: 9:30 am-5:00 pm every day. (415) 426-5230.
Where: Historic Round House, Golden Gate Bridge Plaza, San Francisco
Who: You! And your family and friends.
Why: Because it is fun and you can now (virtually):

Ride your bike or walk your dog up the main cable.
Pose for a family portrait atop the Bridge.
Smooch your sweetie on top of the 746-foot-high tower.
Get a perfect shot of yourself standing in front of the Bridge, even when it's completely fogged in.
Learn more: http://www.ggbridgephotos.com
Media contact:
David Shaw, 415-561-3064
dshaw(at)parksconservancy(dot)org