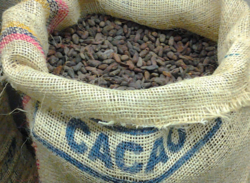 There are many people who either can't drink coffee or tea, or don't prefer the taste, that would love the taste of brewed, all-natural cocoa. We want to help the world re-discover this ancient, healthful, great tasting beverage."
Denver, Colorado (PRWEB) November 30, 2012
CocoaJoe, LLC is a new company established in January of this year, based in Denver, Colorado that produces and sells hand crafted, artisanal batches of organic, premium brewing cocoa. Brewing cocoa is the latest health beverage to hit the market. Many Americans are not familiar with the concept of brewing cocoa, often mistaken it for its altered, highly processed, sugar loaded and dairy filled cousin fondly known as "hot chocolate or hot cocoa."
Brewing cocoa is completely different from hot chocolate. It is minimally processed, unlike hot chocolate which is extensively processed and combined with sugar, alkali, and other chemicals and ingredients that reduce its original health benefit properties. Brewing cocoa is produced from raw cocoa beans which are roasted then ground, similar to coffee beans, then brewed like tea or coffee in boiling water. Brewing cocoa contains no added sugar, dairy or artificial ingredients. There is nothing added to the raw cocoa beans during the roasting process, so the beans retain all of their natural health benefit properties. These include the highest concentration of free radical fighting anti-oxidants per ounce than any other food or beverage, nutrient rich vitamins and minerals, natural brain stimulating compounds, and a safe and mild, natural stimulant called Theobromine.
Brewing Cocoa may not be familiar to many people today, but it was actually an ancient drink of the Mesoamerica civilizations, with archeological evidence dating back to 1100 BC as the earliest evidence of cocoa or cocao beans use to date. The Maya are generally given credit for creating the first modern chocolate beverage over 2,000 years ago. Cocoa played a special role in both Maya and Aztec royal and religious events. Priests presented cacao seeds as offerings to the deities and served chocolate drinks during sacred ceremonies.
Cocoa was originally consumed only by kings and rulers who revered it for its great taste and mood enhancing properties. Today we know that raw brewing cacao beans are very high in antioxidant flavanoids, sulfur and magnesium. The essential fatty acids found in chocolate may help the body to raise good cholesterol and lower bad cholesterol. Amongst the loftiest claims in raw food culture is that raw cacao (without added sugar or dairy products) will reduce your risk of cancer as the high levels of antioxidants reduce the amount of free radicals in the body.
"With the great taste and tremendous health benefits offered through premium brewing cocoa, it's just a matter of time until more people discover this original "drink of the gods." There are many people who either can't drink coffee or tea, or don't like the flavor, that would love the taste of brewed, all-natural cocoa. We want to help the world re-discover this ancient, healthy, great tasting beverage." Stated Mr. Schumacher, the founder and CEO of CocoaJoe.
To help introduce more people to the great taste and healthy benefits of premium, organic, brewing cocoa, CocoaJoe is offering free 2 ounce samples. To take advantage of this offer and to try the "drink of the gods" for yourself, go to the CocoaJoe website at http://www.drinkcocoajoe.com, click on shop, select "Free 2 oz. Sample Pack" to receive your sample. This offer is limited to the first 500 people to respond. There is a nominal $3.00 charge to cover the shipping costs.
About CocoaJoe, LLC
CocoaJoe is a Denver, Colorado based company that produces hand-crafted, artisanal batches of premium brewing cocoa. The company is committed to purchasing organic cocoa beans from Fair Trade and ethically traded and sustained farmers located throughout the world. The company is dedicated to educating the world on the health benefits and great taste of this new, yet ancient, beverage. CocoaJoe endeavors to improve the world one cup at a time. To learn more about CocoaJoe or to order their premium, organic brewing cocoa visit their website at http://www.drinkcocoajoe.com