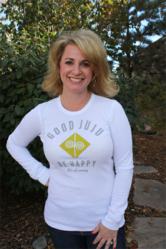 Create Good Juju by being happy. It's all energy.
Littleton, Colorado (PRWEB) November 29, 2012
On December 21, 2012, the Mayan Calendar ends, and to some, it means the end of the world. However, Good Juju founders, Debbie West and Patricia Robb, believe this date marks the beginning of a new era so they are offering their customers a 21% discount on all online orders when they use the code STILLHERE at checkout through December 21.
Good Juju is a Colorado-based company that sells clothing and accessories that feature the symbol of Good Juju. The symbol represents the law of attraction and the idea that "like attracts like." Good Juju founders believe that if one thinks and spreads positivity to others, they will attract more of the same, which in turn spreads exponentially and benefits everyone.
"Good Juju is a perfect holiday gift - especially this year, with talk about the Mayan calendar ending. It's our hope that when people see our product it will make them smile and remind them to be happy and think positive", says company co-founder Patricia Robb.
"And, if the prediction is correct, we want our customers looking good and spreading positivity up until the end. That's why we're offering everyone this special discount on Good Juju," says company co-founder, Debbie West. "Since we really don't believe the world is going to end, come New Years Eve, we hope you'll all be wearing your new Good Juju shirts and spreading a positive vibe!"
About Good Juju:
Good Juju was founded by Patricia Robb and Debbie West to spread good juju as far and to as many people as possible. The company is located in Littleton, Colorado and Good Juju products are sold online. You can also visit the company on Facebook.