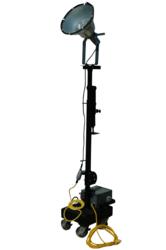 This adjustable inspection tower provides a high quality flood light is ideal for illuminating boiler rooms during inspections, repair, and maintenance work.
Kemp, TX (PRWEB) November 29, 2012
The Magnalight WALBL-1000WMH boiler light provides 110,000 lumens of high quality flood lighting in a versatile wheeled tower design that allows effective illumination in large scale boiler maintenance and servicing activities. The WALBL-1000WMH features a highly maneuverable mounting system that includes an extra heavy base for stable placement, four locking solid wheels that can roll over steel grate flooring, and an extendable tower arm that can be adjusted vertically and angled to fit the height of common boiler access doors.
This boiler light is designed to fold over and can be lock into a variety of angled positions to allow operators to extend the lamp head through the door and illuminate the boiler area below. The telescoping arm can be lengthened or shortened to provide added adjustability, and an included drop down support leg provides added stability for when the arm is extended to its full length. The entire mast and base platform is fabricated from powder coated steel for high strength and resistance to rust and corrosion. The four solid wheels on the base are designed to allow operators to roll the unit over rough surfaces, such as metal grate flooring, and feature a locking design that secures the unit against rolling once positioned as desired. The ballast system is affixed to the base for added weight and stability and can be configured to operate with 120 to 277 VAC current for use with most common voltages. The metal halide lamp is a 1,000 watt unit that produces 110,000 lumens and features a spun aluminum reflector assembly, tempered glass lens, and heavy duty ceramic socket base. The lamp is affixed to the adjustable arm via a trunnion style mounting bracket that allows the operator to adjust the lamp through 360 degrees of vertical movement.
Magnalight offers a wide variety of options including a set of tower eyelets for attaching safety cables when extra support is required and custom options including different lamp wattages and types including HID and LED lamp assemblies. These boiler lights are ideal for deploying at the top of boiler units during maintenance and servicing activities and allow operators to angle the light downwards to illuminate the entire inner area of the boiler effectively.
"This adjustable inspection tower provides a high quality flood light is ideal for illuminating boiler rooms during inspections, repair, and maintenance work," said Robert Bresnahan of Larson Electronics Magnalight.com "Featuring a telescoping arm, adjustable light head, support arm, safety cable eyelets, and weighted wheeled base, this portable light tower is designed to reach inside of doorways, manways, and areas with limited access."
Larson Electronics' Magnalight offers a wide selection of HID work lights, HID light towers, explosion proof lights, HID flashlights, intrinsically safe LEDs and LED work lights. The Larson Electronics family of brands can be found on Magnalight.com, LXFlashlights.com and Larsonelectronicsllc.com. You can also call 1-800-369-6671 to learn more about all of Larson Electronics' lighting products or call 1-214-616-6180 for international inquires.