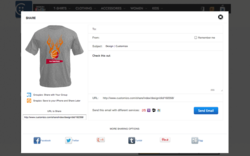 Chicago, IL (PRWEB) November 29, 2012
Izo announces its latest, greatest update to Customizo.com: the Share function. Share enables Customizo.com members to design custom apparel and products, then distribute a link to their design amongst friends. The user can choose whether to share a snapshot of their design or a link with a one-click Buy Now capability.
Choosing to share a Snapshot gives users the option to email designs to friends or post directly to their Facebook, Twitter, LinkedIn, Pinterest, Google + or Digg accounts. Emailing may be accomplished from Google, Yahoo, AOL, or Windows mail. Internally, on Customizo.com, the design may be shared to either Groupizo or Snapizo accounts. Groupizo is Izo's design collaboration function, allowing users to edit each other's designs, chat, and vote on their favorite design. Izo's mobile application, Snapizo, allows users to take pictures with their mobile debvice, apply photo effects and filters, and upload pictures directly to their Customizo.com account.
Selecting the Buy Now option enables users to share via the same methods as Snapshot, with the additional capability for the recipient to add the design directly to their shopping cart. Eliminating additional design steps makes it easy to purchase the design, as if it were one of the existing Buy Now products on Customizo.com. Essentially, Share takes the creator from a mere site user to a clothing designer. Fashion on!
Using either Share function is simple: the design creator applies artwork to any of the products found in Customizo's catalog using the Design Studio, saves to their account, then selects Share after choosing a product color, quantities and sizes. The option to either Snapshot or Buy Now appears in a lightbox above Share.
About Customizo and Izo Brands: With Customizo, Groupizo and Snapizo, Izo is knitting the framework for the future of e-commerce with a multi-faceted set of innovative product customization and design tools, a unique group collaboration interface, and mobile media distribution applications. Izo's mission is to be the most customer-centric, creative, and innovative company in the custom apparel and promotional products industries.