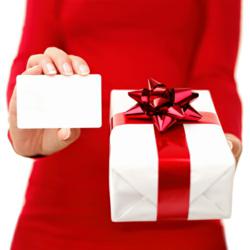 (PRWEB) November 30, 2012
Gift cards are considered a welcome gift by 90%; however 37% of that group said they wanted a gift to open as well. 72% said gift cards for kids were perfectly acceptable; however for that significant other only 50% thought this was the case. Gift cards for teachers were the most popular choice though homemade goodies, chocolates and candles were high on this list. Gift cards of choice were those from department stores at 22%, followed closely by restaurants at 21%; online stores were next at 17%, with gas gift cards at 14% and grocery gift cards at 13%.
How about gifts in the workplace? Only 30% said they would be giving gifts to coworkers though about 50% are going to be giving the boss something while another 23% are still deciding what to do. For those getting the boss a gift, 85% will be spending $30 and under.
Stuck on a favorite hostess gift of flowers? A potted Poinsettia or red roses with pine boughs were the two favorites topping the list. Do you get the ex something if they'll be dropping by because of the kids? 61% said no. How about re-gifting? 80% are okay with this, though half of that group said it depends. Who hasn't re-gifted a bottle of wine?
Though Tellwutter's have posted numerous gift related surveys on Tellwut's online survey site, the gifts might just be determined based on the "Naughty or Nice" list. So how do Tellwutter's rank? 45% said they were nice and 23% said a bit of both. 14% claimed being naughty, however, with 18% saying shhhh… who knows how large that naughty group is!
Tellwut is an online survey company providing a unique mix of business survey tools, private voter panels and open opinion poll forums. Tellwut's open forum provides voters the opportunity to vote on, or post surveys, offering online users a unique combination of survey tools and a rewards program, coupled with a social network element that will facilitate dialogue, argument and conversation across an infinite number of subjects. Tellwut's business application allows organizations, researchers and students to send their own private online surveys or canvass privately the Tellwut panel as a whole or based on desired demographics. Free survey trial packages are available.