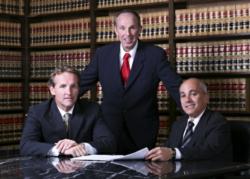 Something has gone very wrong with our criminal justice system when such a highly respected school teacher can be put through this nightmare due to an alleged 'two second kiss.'
Tustin, CA (PRWEB) November 30, 2012
An Orange County Superior Court judge dismissed all charges of sexual misconduct with a minor (per California Penal Code Section 647.6) against former NFL player Joseph Orduna (Case 12CM01770), who was represented by leading criminal defense attorney David R. Cohn, partner at Wallin & Klarich: A Law Corporation.
"Something has gone very wrong with our criminal justice system when such a highly respected school teacher can be put through this nightmare due to an alleged 'two second kiss.' Thank God justice has been done. Fortunately, Mr. Orduna realized that his freedom depended upon his retention of Wallin and Klarich, a criminal defense law firm experienced in child molest cases. Wallin and Klarich prepared an effective defense strategy which helped prove his innocence" said senior partner Paul J. Wallin.
Judge Evans, on his own motion pursuant to Penal Code §1385 and against the DA's stringent objection and argument by both the prosecutor and defense attorney David R. Cohn, dismissed the charge and case this morning after considering many factors that would motivate a reasonable judge. Those factors included the interests of society, Mr. Orduna's constitutional rights, the evidence presented at trial, the expert testimony at trial, and the potential outcome if the case was re-tried. Judge Evans dismissed the case against Mr. Orduna after stating that there is no likelihood of a different outcome if the case is re-tried. Judge Evans said that the expert testimony of Dr. Veronica Thomas, Ph.D., was helpful and persuasive - stating that she has testified before him on many occasions for both, prosecution and defense and is very cautious with her opinion - as she found that after a thorough psychosexual forensic evaluation, Mr. Orduna does not have sexual deviant interests in children or teenagers.
Two days earlier, an Orange County jury had been unable to reach a unanimous verdict. However, 8 of the 12 jurors had voted not guilty. Mr. Orduna had been teaching for 17 years and he had a tremendous reputation prior to the accusations against him. Prior to his teaching career, Mr Orunda was a running back with the New York Giants and Baltimore Colts. All of that changed when he was falsely accused of child molestation in June 2011. Newspapers reported that Mr. Orduna was arrested for annoying and molesting a child. Mr. Orduna was facing having to register as a sex offender if he had been convicted. Due to these false allegations, Mr. Orduna was forced to retire from a career he loved. In addition to all of the above, Mr. Orduna had to expend tens of thousands of dollars to defend himself against the molest allegations.
At Wallin & Klarich, we never lose sight of our law firm's fundamental commitment to do all we can to help people who are facing legal problems. We believe that every person is entitled to the highest quality legal defense when they are facing the loss of their freedom. Wallin & Klarich has over 30 years of experience helping clients facing all types of criminal and family law matters in Orange, Los Angeles, Riverside, San Bernardino, San Diego and Ventura Counties.
###