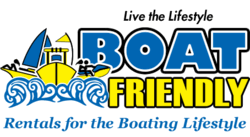 Booking a vacation rental with boating amenities has never been easier
Fairhope, AL (PRWEB) November 29, 2012
For vacationers who believe the best way to see the world is by boat, BoatFriendly.com offers a resource to make their boat-vacation planning easier, quicker and hassle free with its latest software upgrades. The rent-by-owner website features only rental properties with the boater in mind, including homes and condominiums with boating amenities like boat ramps, docks, lifts, slips and boat-trailer parking areas. The site also features information unique to boaters, such as the size of boats that can be accommodated, and whether fuel, power and water is boat accessible.
"Booking a vacation rental with boating amenities has never been easier," said Chris Wright, president of Clearle. "With the version 2.0 software upgrades recently implemented on Clearle's BoatFriendly.com rental website, finding condos and homes that suit a boater's lifestyle is as easy as point and click."
Wright said the version 2.0 upgrades to BoatFriendly.com offers innovative new features that appeal to both property owners and potential guests, including:

Faster page-loading times, cutting-edge photo loading and slide show photo display
Google map display of available properties allows proximity and zoom-in capabilities to aid guests seeking rental properties in particular areas; ability to click to see details and pricing
No click through needed for renters to access availability calendars on listings
Ranking system to reward owners/property managers for using availability calendar, posting monthly rates, adding more photos, receiving guest reviews and listing multiple properties
Unique titles per webpack, allowing owners more flexibility in promoting specific amenities and specials, such as boating amenities, pet friendly, long-term rentals, snowbird specials, etc.
Enhanced integration with the Clearle.com network of rent-by-owner websites, bringing the benefit of visibility to other niche markets, with one central admin panel, for a discounted annual rate.
Upgraded software prevents 99.9 percent of spam, allowing owners to receive genuine leads
Boat friendly accommodations on the rent-by-owner site feature various amenities by property, including boat ramps, docks, lifts, boat-trailer parking, water access, boat servicing and repair, marina and clubhouse access, fuel/power/water availabilities, etc.
"Property owners and managers using BoatFriendly.com have the ability to use one interface to market their property on any of the applicable rent-by-owner sites in the Clearle network, including PetFriendlyByOwner.com and MonthlyByOwner.com along with up to 20 other rent-by-owner sites," Wright said. "With just a few clicks, an owner can easily increase their marketing efforts."
At BoatFriendly.com, travelers will find rent-by-owner lodging from the west coast to south Florida, offering amenities unique to the boating vacationer. Wright said the upgraded site will also soon feature a section dedicated to the lifestyle of those who prefer to bring their boat along on their travels. This new feature will include editorials, articles and events focused on the unique boating lifestyle.
For more information on BoatFriendly.com visit the site online or for information about its parent company, Clearle visit http://www.Clearle.com.